Are you hoping to commemorate the most special moment in your life with an enchanting Santorini Flying Dress maternity photoshoot? There are many lovely ideas for a Flying Dress maternity pictorials, ranging from the best spots on the island to photoshoots with the ones you love the most. Read on to gain insight and inspiration into the best ideas for a memorable Flying Dress maternity photoshoot to commemorate the most special time in your life.
Crafting a memorable
Santorini Flying Dress Maternity Photoshoot in a Nutshell
Be one with your partner.

Pose alongside your loved one for an incredibly memorable photoshoot. Try out tender and loving poses that you will want to savor forever.
Make it a family affair

. Take part in a maternity photoshoot with the whole family. Let your older children stand beside you, and find a matching Flying Dress for your daughter.
Impress in Imerovigli

. Find out why the village of Imerovigli is the most popular Flying Dress maternity location. Feel in awe of the amazing architecture & endless sea views.
Connect with the sea

. Enter Santorini's most ethereal and calming spots when you have a photoshoot by the sea. Opt for a quiet beach for a serene photoshoot.
Say cheese at sunset

. Make your maternity photoshoot extra special when you plan for a sunset photoshoot. Bask in the beautiful light and let it accentuate your lovely figure. 
Find the right pose.

Play up your new curves with the perfect poses. Learn the poses that are always flattering and lovely for women during maternity photoshoots.




1. Feel the love with a photoshoot with your partner
Asking your partner to be a part of your Flying Dress maternity photoshoot is a wonderful way to feel a sense of deep connection together, especially during such a significant time in your relationship. The photoshoot with your partner can be very tender and loving, but adding the Flying Dress aspect to it brings a sense of uniqueness that most other expecting couples never partake in. 
There are some classic pregnancy poses for couples that are applicable and highly photogenic during a Santorini Flying Dress pictorial. Images of the man cradling a bump or down on one knee kissing it are two examples of much-loved poses for couples. Romantic, emotional, and memorable, a maternity photoshoot with your partner is a remarkable experience.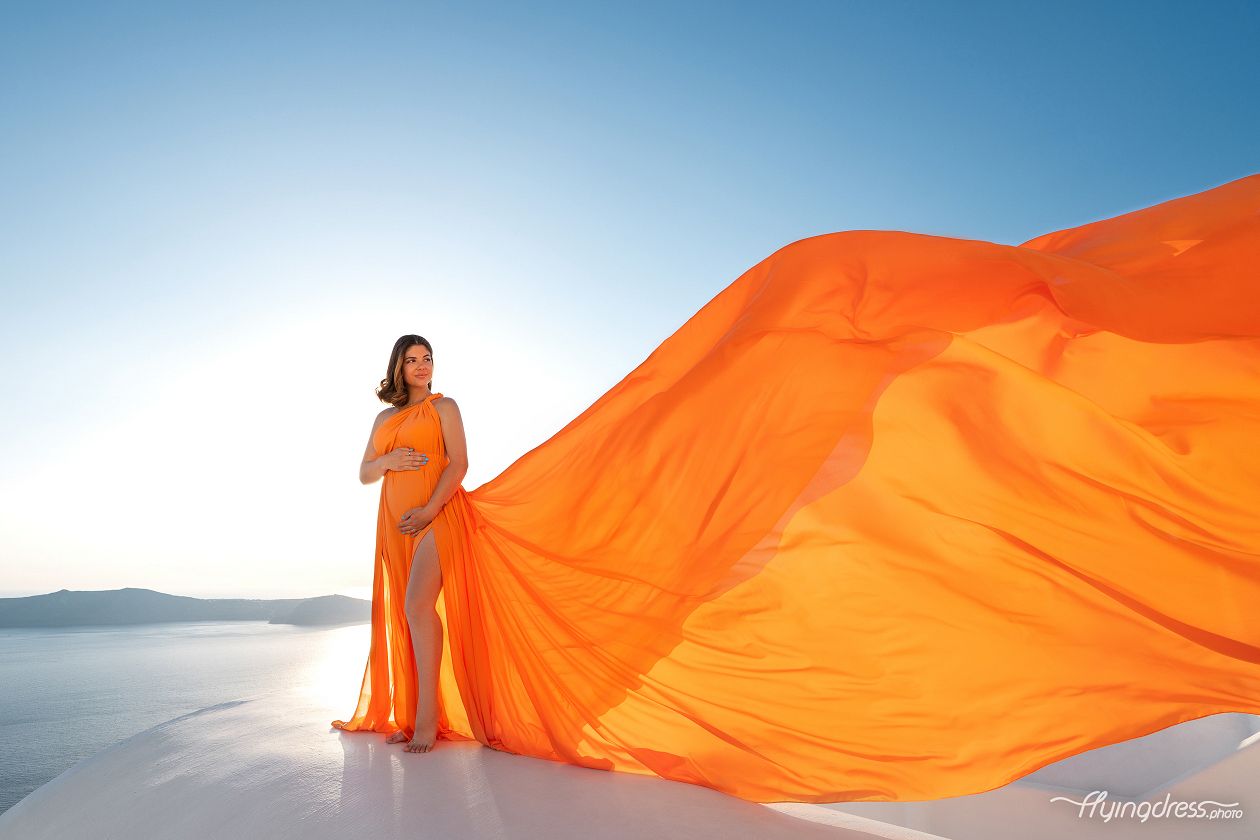 2. Bring everyone together for a family photoshoot
If your Flying Santorini Dress maternity photoshoot is not with your first bundle of joy, an increasingly popular idea is to do a photo session with the rest of your family. Such a concept can be set up in places throughout the island where there is enough room for three or more people to pose together. Opt for sessions on the veranda of your hotel, out in nature, or any place that is fitting for your family.
If you have a young daughter, she can also wear a Santorini dress that matches the one you will be wearing during the session. There are Flying Dresses to choose from for girls as young as five that are a mini-me version of the adult dress-sized dress yet age-appropriate. Let your little ones show you what a proud big sister or brother they are with one of the cutest Flying Dress concepts!
Flying Dress insider tip: Need a little familial inspiration? Read Santorini Family Photoshoot Ideas You Can't Help But Fall in Love With for great ideas
3. Go classic with a photoshoot in Imerovigli 
By far and away, the most sought-after location on the island for a Flying Santorini Dress photo session is the gorgeous cliffside village of Imerovigli. Sitting high above the world-famous caldera and with seemingly endless vistas of the Aegean Sea, it is a perfect place for a memorable photoshoot full of tender moments.
Because Imerovigli is the highest positioned village on the caldera cliffside, the images are beyond spectacular. Additionally, it is much less crowded than Oia, so there is plenty of room to move about. Toss your dress into the air, twirl upon flat rooftops, and feel a sense of freedom amongst the whitewashed houses and blue-domed churches during a fantastic photoshoot.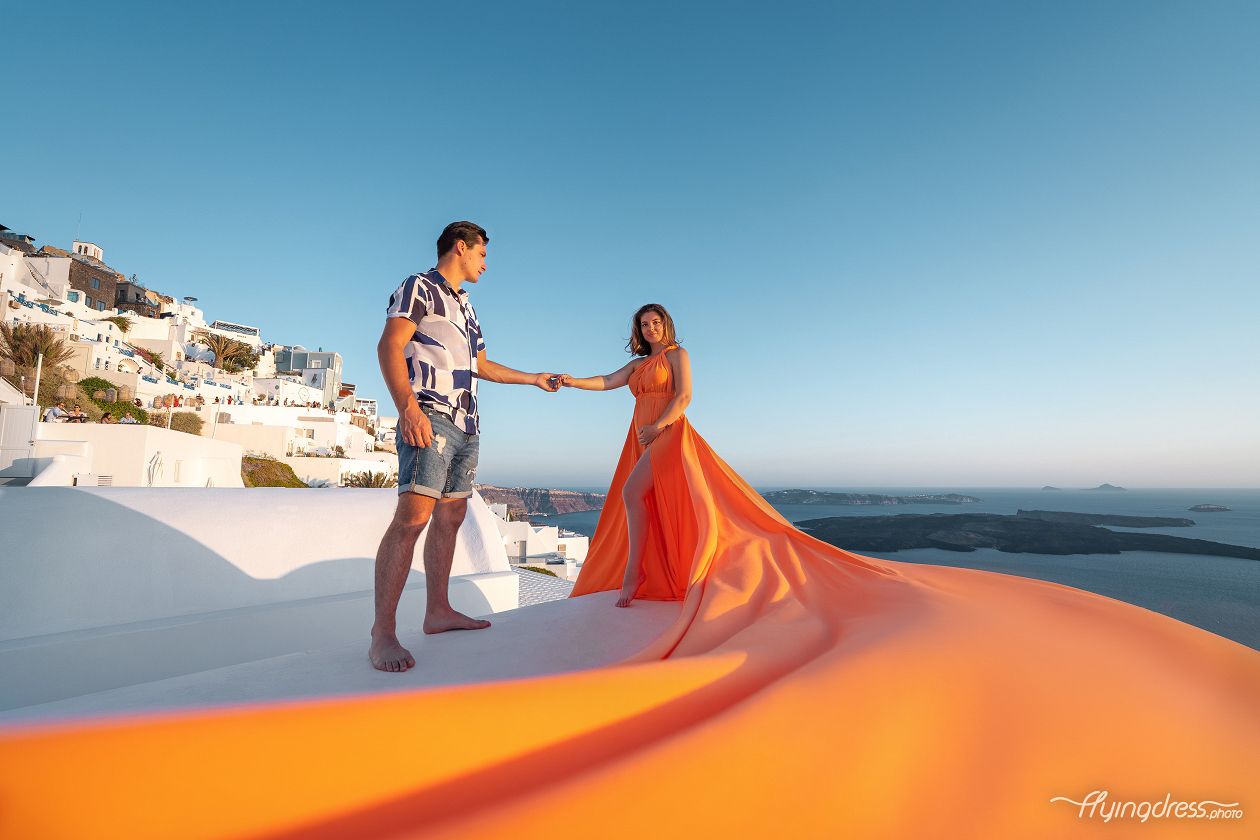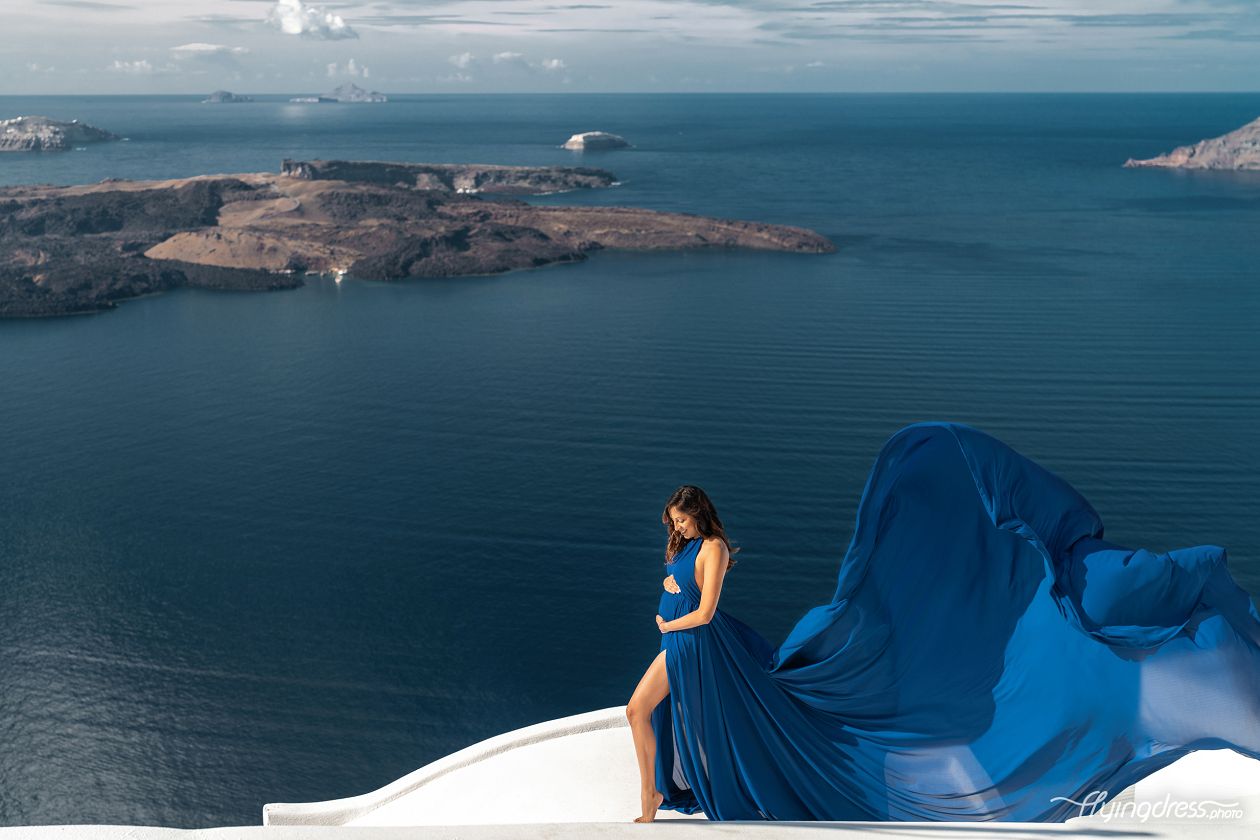 4. Keep it ethereal with a photoshoot by the sea
Santorini and the sea go together hand-in-hand. The Aegean Sea and its surrounding beaches have been the setting of folklore for centuries, and served as the inspiration for poets and artists for just as long. So it should come as no surprise that you can expect some of the most awe-inspiring Flying Dress images alongside some of Santorini's most breathtaking sceneries.
The sea's calming aura and constantly churning waves are the perfect setting for a photoshoot whose concept revolves around birth and a new era. Opt for one of the more remote beaches for seclusion and privacy during your photoshoot and focus on having a pacifying experience. For the most stunning images, being by the sea at sunset simply cannot be beaten. 
5. Strike a pose at sunset
Speaking of the sunset, it is probably a given that this magical hour in Santorini is so revered for a reason. The Santorini sunset is synonymous with enchanting beauty that is unlike any other location. No matter the site or the concept of your Santorini Flying Dress photo session, opting to have it take place during sunset is always a good idea. 
The sunset offers unique lighting that radiates in whichever location on the island you choose. However, it is recommended to be in an area with plenty of open space to really capture the light and the natural background that basks in its glory. Ask your Santorini photographer to help you find the best poses to accentuate your figure and capture the luxuriant light just so. 
6. Pick the perfect pose
There are some tried and true poses that are always much loved during a maternity photoshoot. Check out some of the most flattering ways to capture the emotions during the most sentimental photoshoot of your life whether you are posing alone or with your partner:

Cradle baby bump

Hands in a heart on baby bump

Father reaching around mother

Mother and father kissing

Father kissing baby bump

One hand above the belly, one hand below it
Flying Dress insider tip: Looking for brilliant sunset locations? Check out Santorini Best Photo Spots for Stunning Sunset Views for the best Santorini sunset locales
Partake in a
Santorini Flying Dress maternity photoshoot
to cherish for years to come
At Flying Dress, we understand what a special time your pregnancy is to you and your family. Our Santorini photographers are experts in creating a perfectly relaxing atmosphere so you feel at ease and beautiful during a maternity photoshoot, whether you pose alone or with your loved ones. We would love to help you arrange a photo session so you can look back on your pregnancy with the fondest of memories.
Let us help you commemorate your most special moments. Select the Flying Dress packages that's right for you during your time on Greece's most beautiful island. 
You may like
Santorini Flying Dress Photoshoot Checklist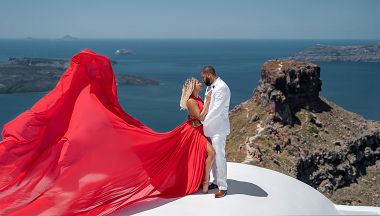 Are you planning for a Flying Dress photoshoot during your holidays in Santorini but want to make sure that you're fully ready beforehand?
How To Choose the Perfect Santorini Flying Dress To Look Like Model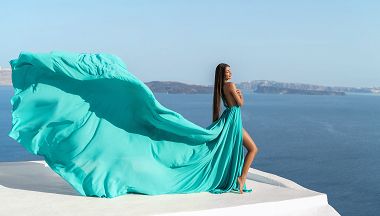 When thinking of a Flying Dress pictorial in Santorini, finding the right dress that makes you feel beautiful is non-negotiable.
Premier Santorini Dress Guide for Every Body Type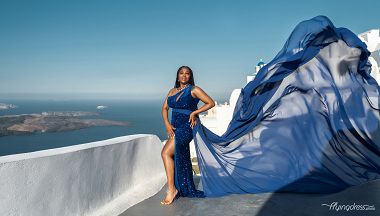 Selecting the perfect dress for your Santorini Flying Dress photoshoot is a must.