Are you planning a family vacation in Santorini and hoping to commemorate precious time spent together? Do you need insight on how to best execute a Santorini family photoshoot that is hassle-free and in the island's most picturesque locations? You're in luck! Find out fresh ideas, insider tips, and suggestions of the most photogenic spots in Santorini for superb family photos. Read on and get ready to set your sights on an unforgettable family photoshoot in Santorini.
Brilliant
Santorini Family Photoshoot
Ideas in a Nutshell
Be a thematic family

.

Be on the same page for the vibe you're putting out. Wild and free or calm and collected, an agreed-upon concept or theme will do wonders in your images.
Coordinate your looks

.

Pull off a cohesive familial look. Whether you go light and neutral or bright and vibrant, the best results are when the whole family is matching. 
Go bold with a Flying Dress pictorial.

Make a statement of epic proportions. Select flowy, ethereal dresses made for all ages with one of the most unique pictorial options.
Opt for Oia

.

It's world-famous for a reason! Consider having your family photoshoot in the winding pathways of Oia as whitewashed houses dot the background.
Think beachy thoughts.

Hit up the beaches for stunning pictures. Let your kids run through the sand, feel the breeze in your hair, and embody the laidback vibes. 
Be iconic in Imerovigli.

Create a pictorial to cherish in gorgeous Imerovigli village. Enjoy classic Cycladic architecture in a laidback atmosphere perfect for families.
Prepare Beforehand for your
Santorini Family Photoshoot
A little bit of preparation can go a long way. There are some logistics involved in family photoshoots that should be sorted out among your crew and your Santorini photographer to ensure a smooth outing. Once you do some prep beforehand, nothing will stand in the way of spectacular family photos. 
 1. Decide on an Agreed-upon Theme or Concept
Imagine the pictures you love to look at the most; they may be seemingly effortless or perhaps charmingly chaotic. It is true, when everyone in your party, or at least the shot-callers of the family, are in agreement, then that's when the magic happens. 
Before embarking on your family photoshoot, decide what type of message you want your photos to convey. Are the kids playfully running around? Is it a more calm and ethereal mood? By agreeing upon a theme or concept, it eliminates fussing the day of the shoot. Being aligned in the vision and conveying it to your photographer is vital in creating beautiful images.
 2. Pick Out Well-coordinated Outfits
Santorini's undeniably unique landscape and chromatic details require some deliberation when planning what to wear during a photoshoot. With its stark white homes, rusty red caldera, and black pebble beaches, it certainly does not have a background that is typical in other parts of the world. As such, tonal details should be taken into consideration.
If you wish to be harmonious with the landscape, consider nearly all-white outfits. It blends well with the houses but has a real wow factor against the desolate landscape. Looking to stand out? Reds, greens, and other vibrant colors can have a serious impact. Whatever you decide to wear to your photoshoot in  Santorini, be sure to dress in a coordinated fashion for cohesion.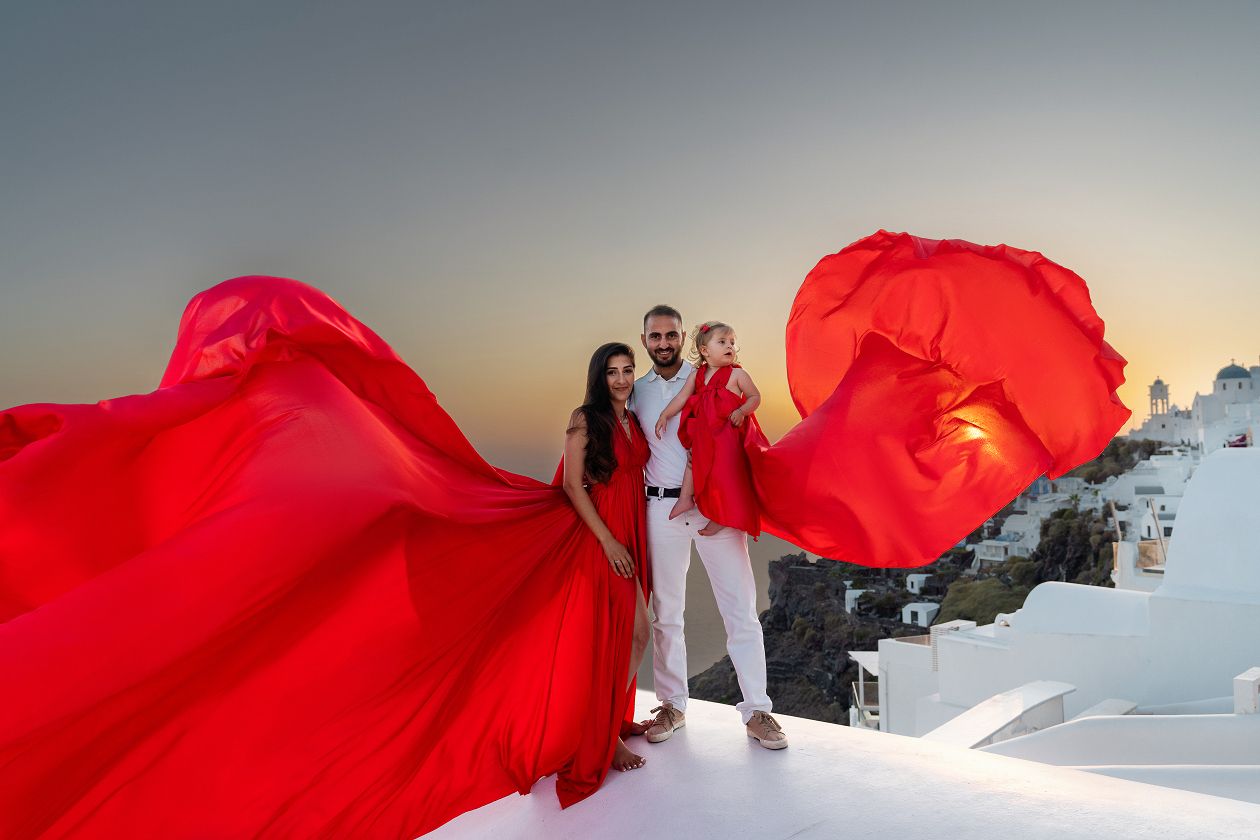 3. Consider a
Santorini Flying Dress Photoshoot
Speaking of outfits, why not make a profound statement with a Santorini Flying Dress family portrait? With this chosen direction of a look, your whole family has the option to dress in bold, bright colors or dramatic black and white for one-of-a-kind images. A Flying Dress photoshoot is a unique experience that is playful, memorable, and strikingly beautiful.
With a Flying Dress photoshoot, the ladies of the family can coordinate in the same color dress but with different styles that are age-appropriate. In fact, there are dresses available for girls as young as 5 and up to about 12 years old. Ask your photographer to help guide you through a catalog of Santorini dress looks that best represents your family's aesthetic.
Discover the Best Settings for a
Santorini Family Photoshoot
Deciding on a photoshoot location is of utmost importance. Of course, your photographer has many suggestions of picturesque places to go in Santorini, but knowing the type of vibe and scenery of a location beforehand ensures the photos represent your family. Unearth some of the most picture-perfect spots in Santorini that are guaranteed to make you smile. 
 4. Strike a Pose on the Many Beaches
If you're a family that prefers dry land while still capturing the essence of a Greek island, deciding on a photo session at one of Santorini's many beaches is a wonderfully photogenic option. Some all-time favorites are Perissa Beach's black sand pebbles and White Beach's pristine beauty and staggering geological formations. 
An advantage of having a family photoshoot on a beach is that it allows for some more creativity since it is in nature and away from the crowds. Kids can run around for candid shots, and the laidback nature of being at the beach often puts families at ease for natural-looking smiles. If there's nothing quite like a Greek beach, imagine how the photos will turn out. 
 5. Say Cheese in the Pathways of Oia
Oia is undoubtedly the most famous village in Santorini, and perhaps even the most famous village in the world. This is for good reason, as its striking beauty of whitewashed houses, blue-domed churches, sprawling sea views, and dramatic caldera make for jaw-dropping vistas. As such, its beauty beckons photography sessions for unparalleled images. 
Sit upon cobblestone walls, wind through the whitewashed streets adorned with magenta bougainvillea flowers, or perch above the caldera for staggering seascape sceneries. Additionally, if you were considering a Santorini Flying Dress pictorial for your family photoshoot, there is no better place than Oia's dramatic background to let a dress fly free.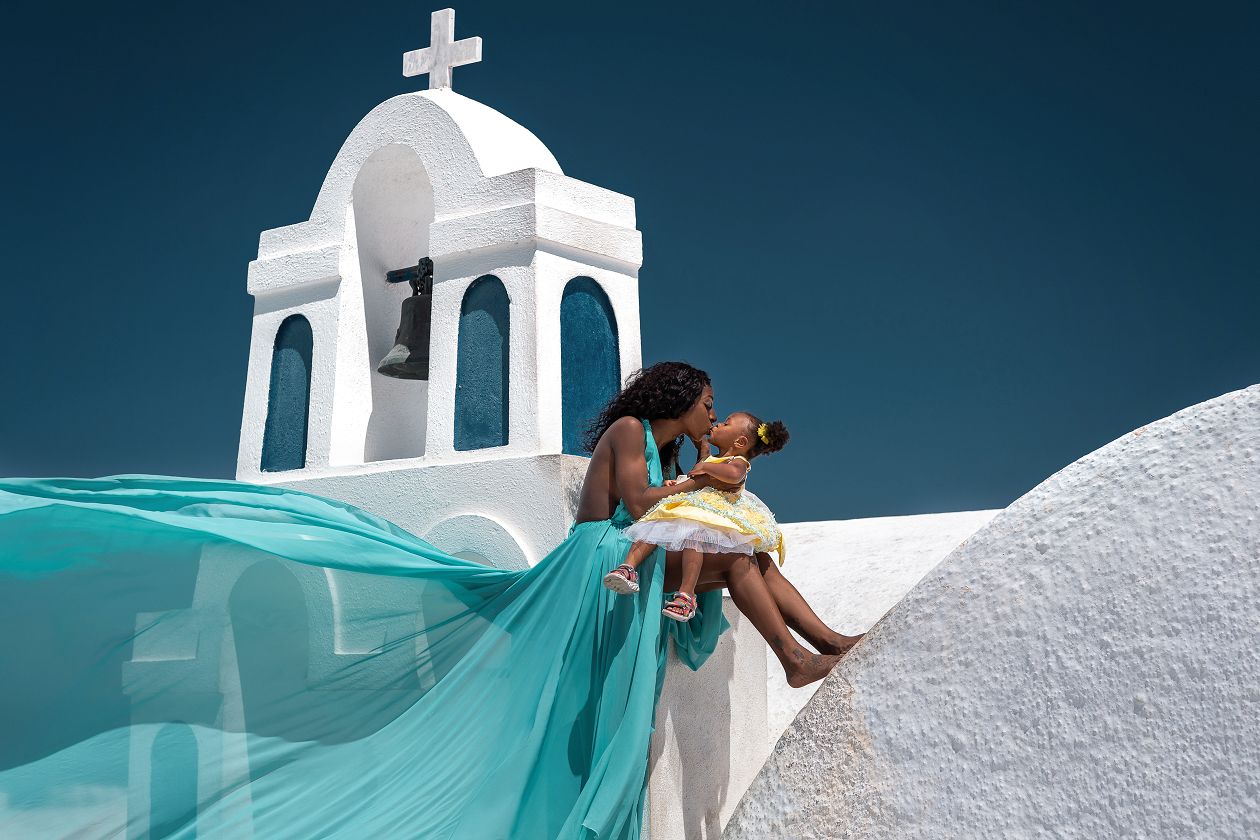 6. Get Imaginative in Imerovigli
For families with young children, one of the very best options for a family photoshoot is in the stunning village of Imerovigli. Though it has many of the same aesthetic features as Oia (think whitewashed houses, blue-domed churches, striking sea views) it has more space to move around while avoiding the massive crowds.
Imerovigli lies just south of Oia, so it still has the same amazing volcanic vistas that you come to expect from Santorini. In fact, it is the highest positioned village along the caldera so it is truly a masterful spot to be in for breathtaking photos. Pose along ancient walls or atop flat roofs, and enjoy the laidback feelings in Imerovigli that allow for a relaxed atmosphere for your family photoshoot.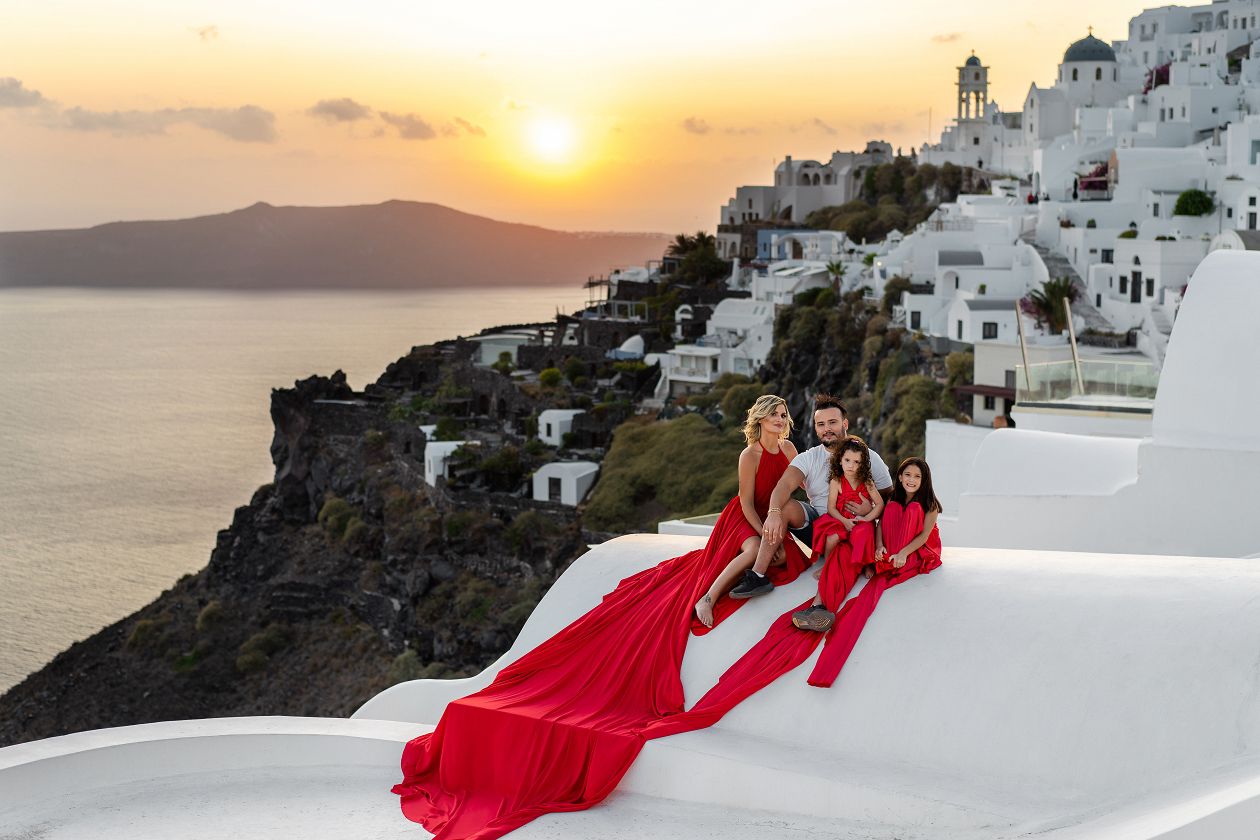 Gather the whole crew for a
Santorini family photoshoot
to cherish forever
The time you spend with your family is precious and deserves to be remembered. At Flying Dress, we would love to help memorialize your family vacation in Santorini with a spectacular family photoshoot. Our Santorini photographers know the best places to go for stunning images, and we have insider tips, tricks, and ideas that set us apart from anyone else.
Don't miss an opportunity to capture priceless moments. Check out the Flying Dress photoshoot packages and find one that is perfect for you during your time in Santorini.
You may like
Santorini Flying Dress Photoshoot Tips To Strike a Pose Like a Model!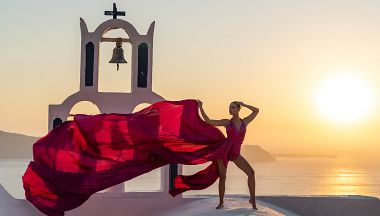 Are you considering a Flying Dress photoshoot in Santorini but worry about how to execute the poses flawlessly?
How to craft the ultimate Flying Dress Shoot with your Personal Photographer in Santorini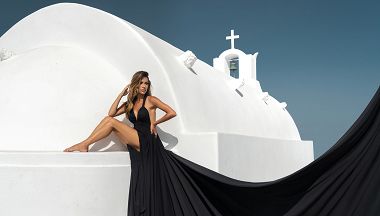 Are you considering a Flying Dress photoshoot, the most epic pictorial in Santorini and beyond?
How To Choose the Perfect Santorini Flying Dress To Look Like Model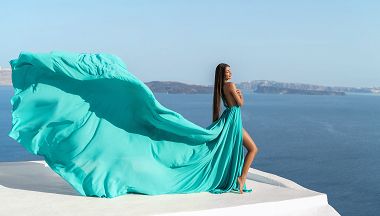 When thinking of a Flying Dress pictorial in Santorini, finding the right dress that makes you feel beautiful is non-negotiable.