Do you dream of experiencing the world-famous Santorini sunset up close and personal? Would you like to commemorate nature's most beautiful piece of artwork with an irresistible photoshoot? Who wouldn't! If you're looking for an indisputable list of Santorini's best photo spots you're in luck. Read on to learn of the premier villages, lovely landmarks, and places by the sea for unparalleled sunset photography sessions. 
Identifying the
Santorini Best Photo Spots
in a Nutshell
Ogle in Oia

. Be absolutely amazed by the world's most famed sunset location. Partake in an incredible sunset photoshoot in a village bursting with life and beauty.
Feel inspired in Imerovigli

. Witness why the highest spot on the caldera side is incredible for sunset pictorials. Wander the streets and strike a pose next to lovely architecture.
See the light(house).

Make your way to Akrotiri Lighthouse for unobstructed sunset views. Opt for a photoshoot near one of the island's most famed landmarks. 
Head to the soaring heights

. Feel on top of the world at Profitis Ilias Mountain. Understand why Santorini's tallest spot is an idyllic location for amazing sunset images.
Va-va-voom at Vlychada.

Go bold on one of Santorini's most dramatic beaches. Consider a bold Flying Dress photoshoot at sunset on the black sands of Vlychada.

Come sail away

. Consider a sunset sailing cruise for images unmatched in gravitas. Opt for a Flying Dress photoshoot with your family or a romantic pictorial with your partner.
Discover the Villages with
Santorini's Best Photo Spots
If visions of whitewashed houses, blue-domed churches, and a dramatic caldera that seems too impossible to be real come to mind when thinking of Santorini, you must visit its iconic cliffside villages. From the seascapes of Oia to towering Imerovigli, it doesn't get much better than a sunset pictorial or Santorini flying dress photoshoot in the island's most photogenic villages.
 1. Center of Oia
You don't get crowned the most beautiful sunset spot in the world for no reason. On the northwestern tip of the island, the village of Oia is perfectly situated upon the rocky caldera and has staggering views of the seemingly endless Aegean Sea. No matter where you situate yourself in Oia as the sun is descending, you're in one of the most renowned sunset locations in the world.
Many Santorini sunset photoshoots in Oia have models perched atop domed roofs for maximum seascape vistas, or through winding cobblestone pathways leading down the cliffside. Even though Oia gets very crowded during sunset, your experienced Santorini photographer is sure to find some hidden gems the crowds do not congregate towards for unique and unobstructed photos.
 2. Top of Imerovigli
Sitting south of Oia is Imerovigli, an at-times overlooked village, which is a shame considering it is located on the highest point of the caldera's rim. With panoramic views galore from staggering heights, it very well may be as superb a spot for a sunset photoshoot as it gets on the island! 
Adorned with typical Cycladic architecture, the vibrant colors of the setting sun bounce off the whitewashed houses in a manner that is perfect for an enchanting pictorial backdrop. So head to the highest village in Santorini, dress in your most showstopping outfit, and partake in a sunset photoshoot from unbelievable soaring heights.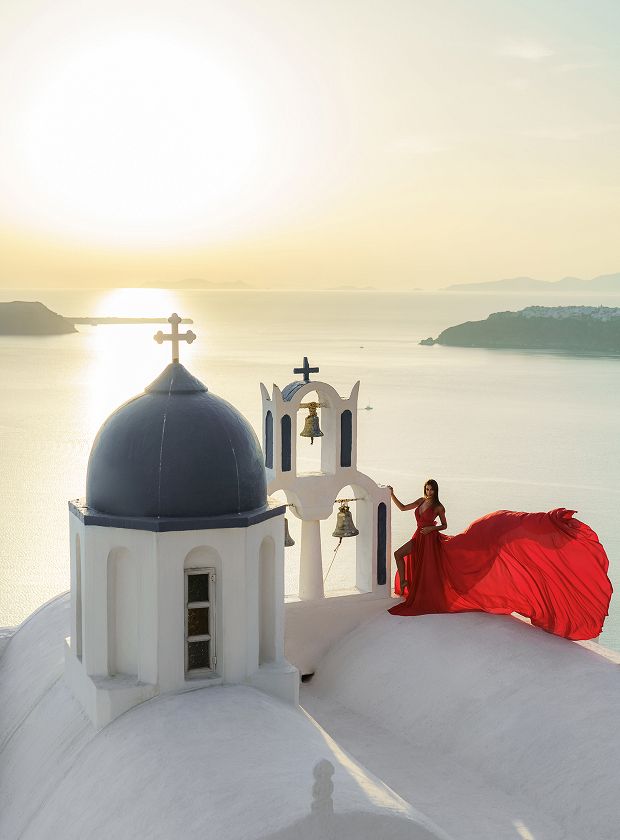 Unravel the Most Stunning Landmarks for Beautiful Photo Spots 
Though Santorini's wild landscape beauty is front and center on nearly every inch of the island, there are specific landmarks that are particularly enthralling as a location for a captivating photo session. From manmade to natural wonders, check out the landmarks which rank among Santorini's best photo spots during the sunset. 
3. Akrotiri Lighthouse
Situated in a peaceful setting overlooking the Aegean, the southwestern-located Akrotiri Lighthouse is a stand-out landmark on the island. Embracing Santorini's untamed natural beauty and providing some spectacular sea views, the lighthouse is undoubtedly an inspiring place to be for free-spirited photos during Santorini's sunset. 
Even though it has a superb position during the sunset and is a structurally stunning piece on its own, it does not get overly crowded in the evenings. As such, it is a wonderful place for solo, romantic, or Santorini Flying Dress pictorials. Along with your photographer, head to the dramatic cliffside it sits upon for sunset pictures that are sure to be memorable.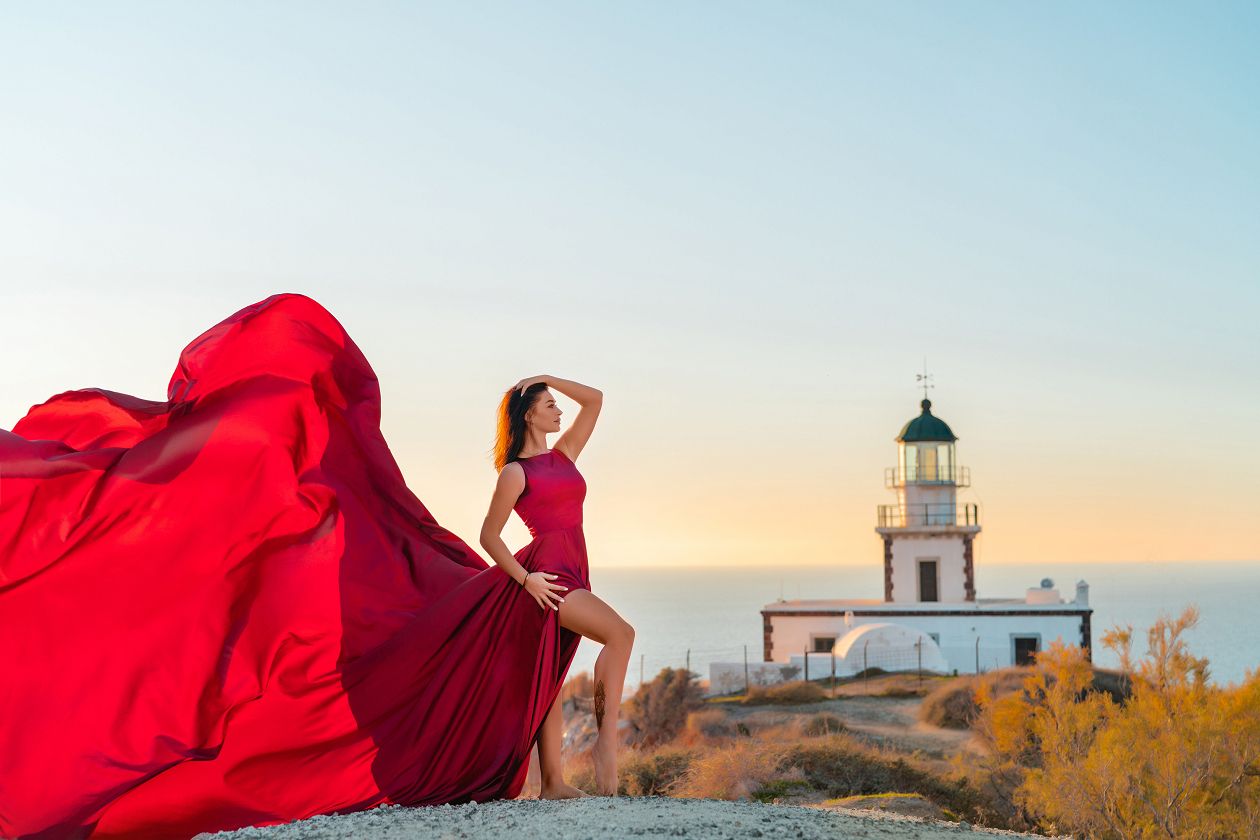 4. Profitis Ilias Mountain
If it is the highest point on Santorini that you desire, look no further than Profitis Ilias Mountain. With unmatched panoramic views up and down the coast, including sceneries of villages Fira and up to Oia, you just know the sunset has to be remarkable from so high up. 
Along with your Santorini photographer, make your way to the peak of one of Santorini's most beloved landmarks. In addition to being a striking spot to watch the sunset and pose under its radiant light, beautiful sites on the mountain, including the namesake monastery and ancient stone walls, offer even more beautiful punctuations during your outing.
Find
Santorini's Best Photo Spots
by the Sea
Dreamy, ethereal, and brimming with beauty, the Aegean Sea that surrounds Santorini has been the subject of myths and legends for centuries. Whether on the famed beaches or via sailing vessel, posing by the sea is one of the most enticing settings for a photoshoot in Santorini as the sun dips into the horizon. 
5. Vlychada beach
If you are looking to highlight the unique geological features of Santorini that takes you away from the caldera on the northwestern coast, then opt for a sunset photoshoot at Vlychada beach. Regarded for its black pebbly sand, a result of the explosive volcanic eruption from millennia ago, the beach is truly unique and a fascinating backdrop for any type of photoshoot.
It should be noted that the drama and intense curvatures of the cliffside is the ideal setting for a Santorini Flying Dress photoshoot. Additionally, since the pebbles are so peculiarly dark in color, the bright colors of a Santorini dress that is typical of such a shoot is breathtaking. Top it off with a world-famous sunset in the background and you have a winning combination! 
 6. Sailing cruise 
The most authentically Santorini experience has to be partaking in a sailing cruise. Top it off with making it at sunset, and you're in for a winning combination. Clocking in at quite possibly the number one position of Santorini's best spots during the sunset, a sailing cruise around the island should be high up on the list for anyone who wishes for otherworldly images at dusk.
Consider a private sunset sailing cruise with your partner for a romantic photoshoot, or make it a family affair with your kids in tow. Sail around the island during the most magical time of day and be amazed as the sky lights up right before your eyes. Just strike a pose and let the beauty unfold naturally. 
Join an experienced
Santorini photographer
on an outing to amazing Santorini sunset spots
At Flying Dress, our favorite time of day is undoubtedly as the sun is setting. We are continuously inspired by the staggering beauty of the island as the sky lights up dramatically, and we love working closely with others who appreciate the almost mystical feelings during this time. We would be happy to take you to the uncontested Santorini best photo spots for a dramatic sunset pictorial.
Don't let a moment of beauty pass you by. Learn about the many Flying Dress photography packages available to memorialize your time in Santorini.
You may like
How To Choose the Perfect Santorini Flying Dress To Look Like Model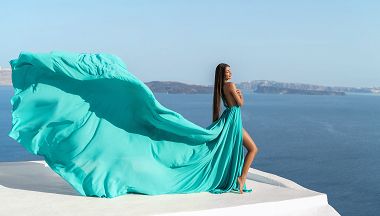 When thinking of a Flying Dress pictorial in Santorini, finding the right dress that makes you feel beautiful is non-negotiable.
Santorini Flying Dress Photoshoot Tips To Strike a Pose Like a Model!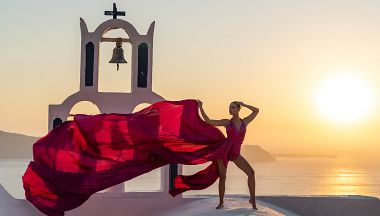 Are you considering a Flying Dress photoshoot in Santorini but worry about how to execute the poses flawlessly?
How to craft the ultimate Flying Dress Shoot with your Personal Photographer in Santorini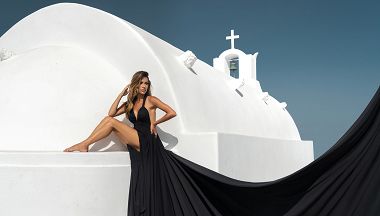 Are you considering a Flying Dress photoshoot, the most epic pictorial in Santorini and beyond?