If you're looking for a memorable way to commemorate your Grecian holidays with your friends or family, it doesn't get much more special than a Santorini dress group photoshoot. Fun, memorable, and fashion-forward, opting for a Flying Dress pictorial with the ones you love is an out-of-the-box activity that you can cherish forever. Read on to learn the ultimate insider tips on how to make sure your group photoshoot on Greece's most beautiful island is picture-perfect. 
Read
Santorini Dress Group Photoshoot
tips in a Nutshell
Come together as one.

Decide on a theme together as a group. Come to an agreement on how you want the photos to look to keep everyone happy.
Location, location, location.

Spend some time deciding where you want your Flying Dress photoshoot to occur. Find a place that has plenty of room to move around. 
Color me pretty.

Agree on the Santorini dress colors that everyone will wear. Go matchy-matchy or represent every color of the rainbow, all the while making sure everyone feels comfortable.
Strike a pose together.

Practice your posing in the time leading up to the photoshoot. Guarantee an interactive and lovely end result by ensuring everyone feels confident with what to do.
1. Agree on a cohesive theme
One of the keys to producing lovely images during a group Santorini Flying Dress photoshoot is to make sure that everyone looks like they all fit together. If each member of your group is on their own page and there is not a cohesive theme, then you're on the road to having a jumbled-looking photoshoot that may even appear sloppy and disjointed.
Deciding on a theme as a group is a surefire way to ensure a beautiful pictorial. Are you going for ethereal and dreamy? Bold and brazen? If half of your group wants to smile during the pictures and the other half wants to do a serious smoldering look, it will be abundantly clear that it lacks solidarity. Save yourself the disappointment of being dissatisfied with the result and have a group conversation on interrelatedness beforehand.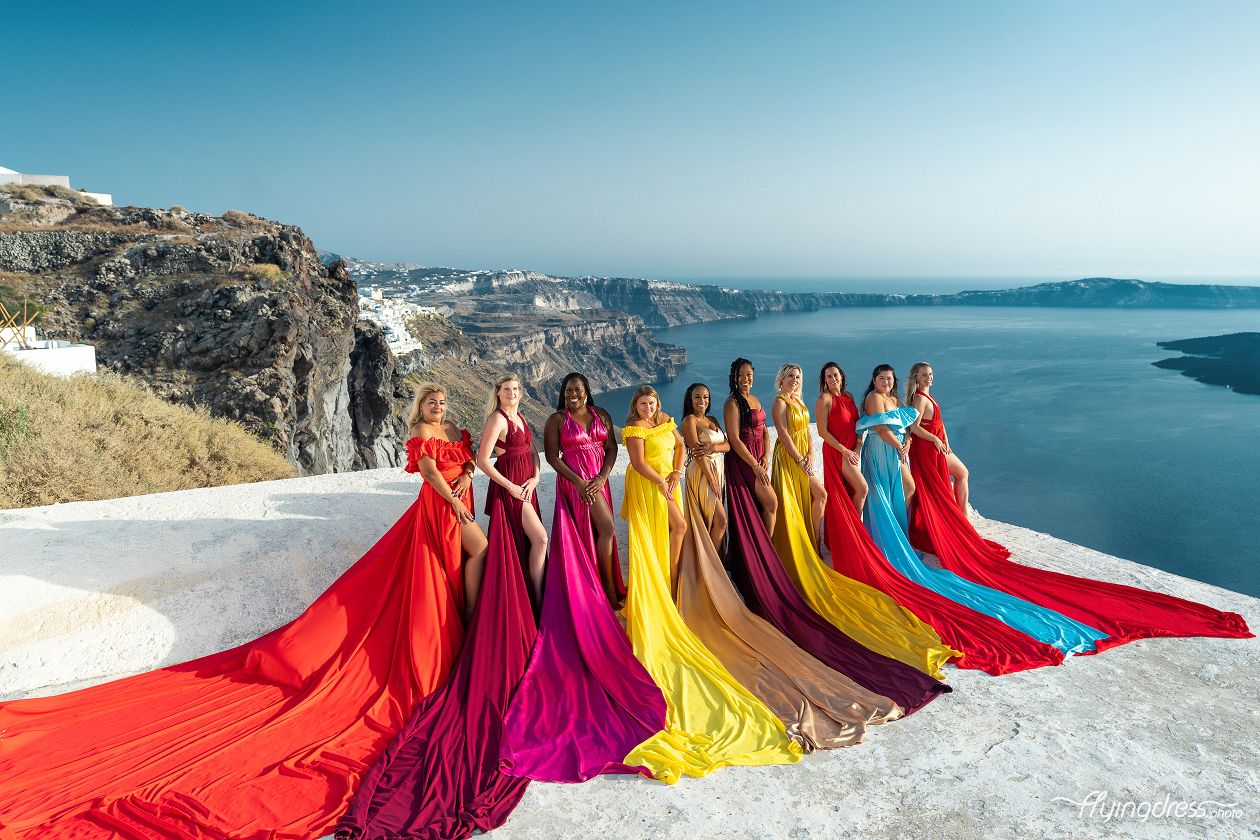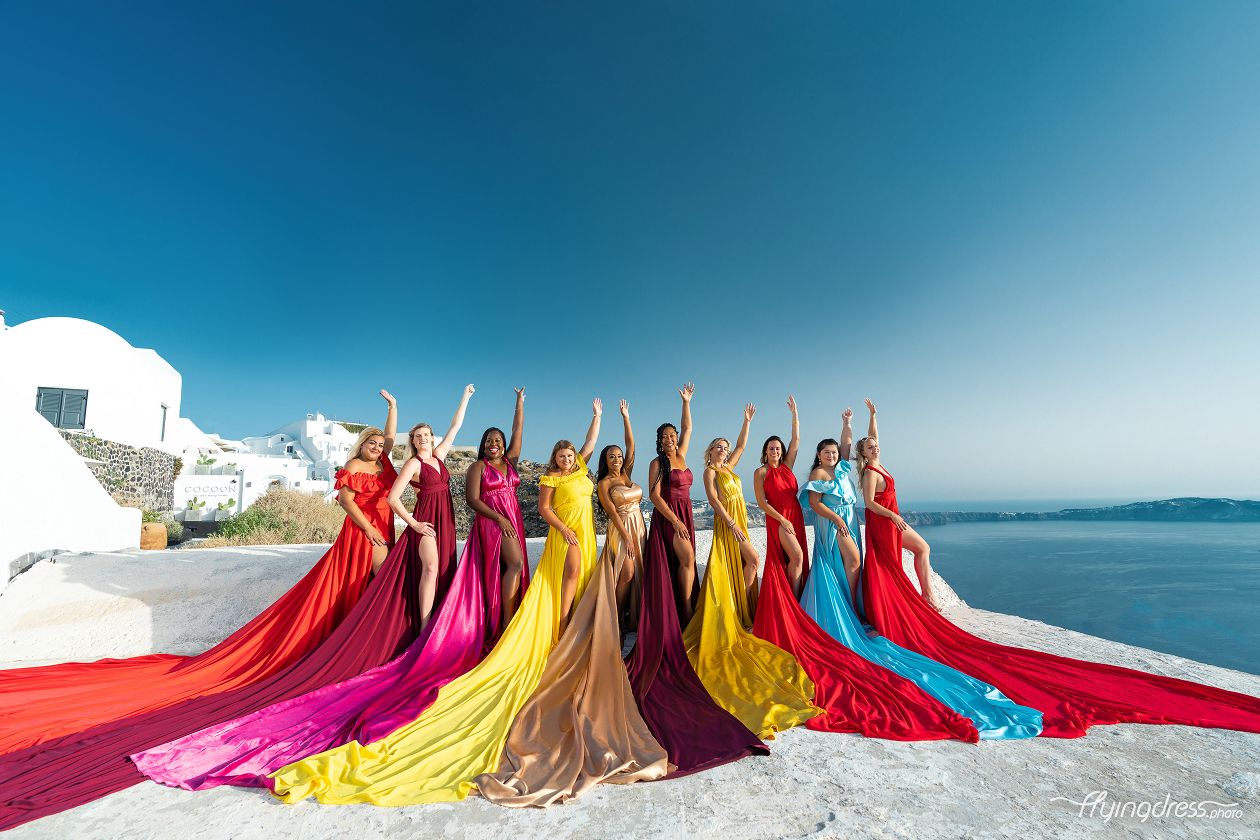 2. Find your dream
Santorini Flying Dress
location
Determining where you want your Santorini dress group photoshoot to take place is one of the most essential, albeit most enjoyable, things to sort out in advance. Your Santorini photographer undoubtedly has many ideas up their sleeves about the most picturesque places. Still, it is a fun group idea ahead of time to tour around the island in search of the ideal location that everyone agrees on.
For groups that exceed more than three people, bear in mind that you will need to find a spot on the island that allows for plenty of room to spread out. This may present itself on one of the many beaches or a lesser-visited village such as Megalochori instead of tight quarters like Oia or Fira. It should come as no surprise that Santorini Flying Dress group photoshoots are ever-popular during sunset, so a location on the western part of the island should be considered during this time.
Flying Dress insider tip: Like the sounds of a sunset photoshoot for your group? Check out Santorini Best Photo Spots for Stunning Sunset Views for inspired location ideas

3. Decide on
Santorini dress
colors in advance
Similar to landing on a cohesive theme for your group photoshoot, thought and consideration must be put into deciding on the dress colors that each person wears. Some groups opt for chromatic matching, like reds, yellows, or oranges together, while others prefer to cover the whole spectrum for bright photos that pop and make a statement. However, dresses are limited so being matchy-matchy as a group will only work for small numbers!
However, the most vital aspect to bear in mind is that everyone in your group feels comfortable in what they are wearing. There is no use in finding the most complementary colors if your group members feel uncomfortable or not like themselves. It is recommended to look at the extensive Flying Dress catalog well in advance to avoid any unpleasantness pertaining to colors on the day of the shoot or once you receive the images.
Flying Dress insider tip: Need help figuring out which color looks best on you? Read the Ultimate Santorini Dress Color Guide for Every Skin Tone & Hair Shade to find your most flattering look.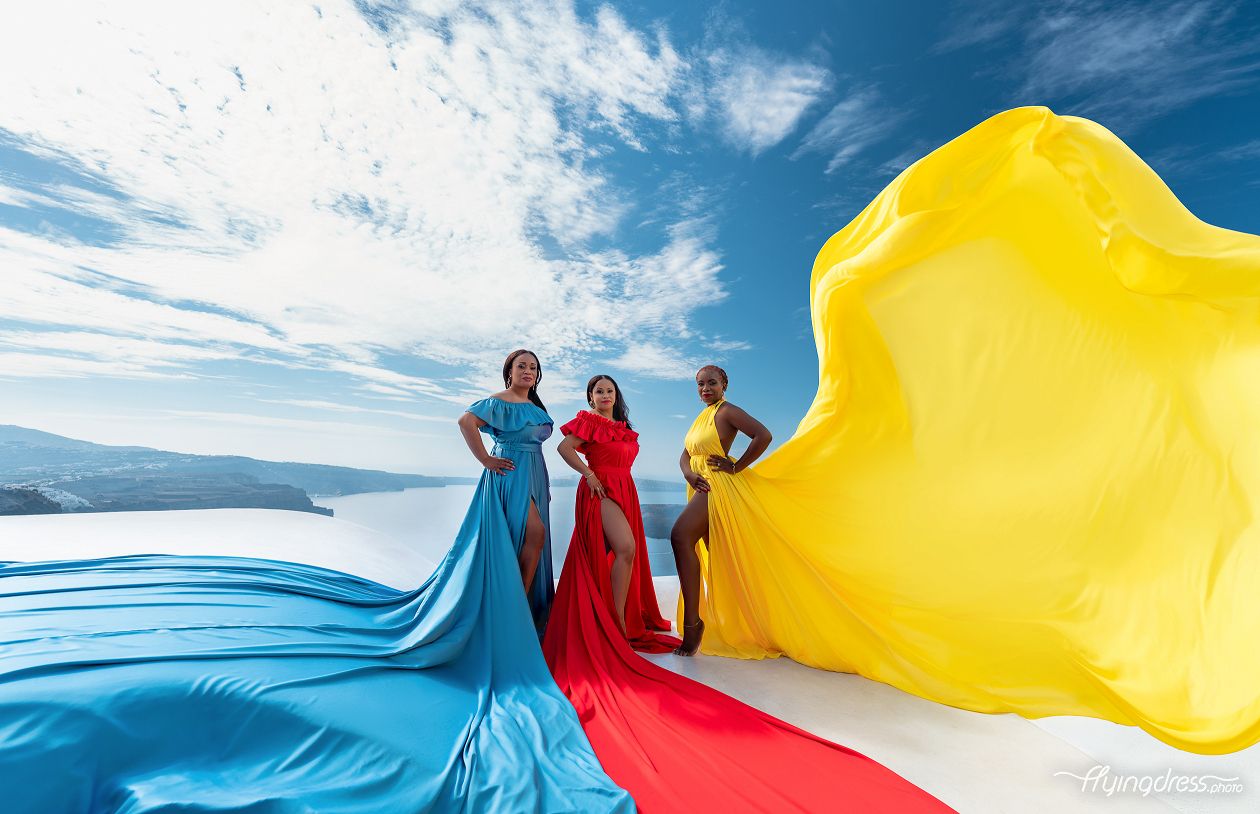 4. Practice posing beforehand
A Santorini dress photoshoot is a much more physical and interactive experience than your typical photoshoot. Thanks to dresses taking flight, full-body shots, and interesting posing required, it is essential that your group does a bit of rehearsing before the photo session. Practicing posing beforehand, on both an individual and group level, helps ensure you feel confident the day of your photoshoot and helps pictures turn out spectacularly.
Part of the reason why people select a group photoshoot is to feel a sense of togetherness, so interacting with one another should be at the forefront of your posing practice. The best group photoshoots look as if everyone is working together, not as if a bunch of strangers were asked to pose alongside one another. Mix up your poses between sweet and loving with more sultry and bold, but always be on the same page as one another. 
Flying Dress insider tip: In search of some posing inspiration? Take a look at Santorini Flying Dress Photoshoot Tips To Strike a Pose Like a Model and feel like a professional in no time. 
Embark on a
Santorini dress group photoshoot
to remember forever
Taking part in a group photoshoot with your friends or family is one of the best ways to preserve memories of a special experience. At Flying Dress, we love group photoshoots because they're dynamic, energetic, and interactive. We would love to have the chance to talk to you more about the Santorini Flying Dress photoshoot with your favorite people and come up with ideas to make it an extraordinary experience.
Find the package that's right for you so you can remember your Santorini holidays forever. Check out the Flying Dress package selection and set off on an unforgettable photoshoot.