Match your skin & hair colors to the Flying Dress selections with expert precision
Your skin tone and hair shade are some of your most defining physical features, so you owe it to yourself to find the most attractive Santorini dress color to complement them flawlessly. Determining the best-suited dress color can be tricky but it makes all the difference in aesthetically pleasing and endlessly flattering images.
Luckily, the ultimate Santorini Dress Color Guide is here to help you. Use the guide to find the best dress colors for your skin tone and hair shade and get ready to rock your Flying Dress photoshoot styled like a pro.
Discover your skin tone & which
Santorini dress
color looks best on it
Every woman's skin tone is different and unique and tells a story of who she is. You probably make a conscious decision on the palettes you wear in your everyday outfits based on your coloring, and the same should apply to selecting a perfect Santorini flying dress. Read on to learn more about the characteristics of various skin tones, determine where you fall on the spectrum, and find your ideal dress shade.
Fair skin tone characteristics
Porcelain in complexion

Burn very easily

Difficult to get a tan

Typically have light eyes
Complementary colors on fair skin tones
Women with a fair skin tone are abundantly cautious in the sun, giving way to their silky complexion. Fair skin looks nice in rich pastels or soft colors such as mint green, light yellows, and corals. In general, they should avoid colors that are too extreme and harsh, such as neons, dark purples, or bright pinks.
Light skin tone characteristics
Cool undertones

Becomes flushed easily

Burn before turning tan

Healthy glow in the summer
Complementary colors on light skin tone
Light skin tone benefits from a rich sharpness of colors to make their skin pop and not appear pale. They tend to look lovely in shades of greens and blues, such as emerald and navy. Similarly to fair skin tone, women with light skin tone should avoid super bright colors unless they have a solid tan. At all costs, white is not advisable. 
Medium skin tone characteristics
Warm golden undertones

Tans easily

Rarely burns

 Year-round color
Complementary colors on medium skin tone
Medium skin tones are quite versatile and have a tendency to look nice in a variety of colors. Rich yellow, emerald green, and even pastels are complementary colors for women who have a medium complexion. However, they should avoid colors that are similar to their skin tone so they do not get washed out, so brown, beige, and camel are not advised. 
Olive skin tone characteristics
Warm or neutral undertones

Yellow or green tint to the skin

Tan or dark year-round

Becomes very dark in summer
Complementary colors on olive skin tone
Synonymous with the Mediterranean, olive skin tones have an undertone that may appear yellow or green and gives off the appearance of nearly always being tan. To make the unique colors of their skin pop, women with olive skin tones should opt for cool colors such as turquoise, mint green, or creamy white. Their skin also stands up to bright colors, so a hot pink or fire red looks fantastic on them. 
Dark skin tone characteristics
Rich, robust color

Tans rapidly and deeply

Typically dark hair & eyes

Little to no freckles
Complementary colors on dark skin tone
Deep and rich, dark skin tone is one of the most complex and stand-out complexions. Thanks to such a full-bodied complexion, women with dark skin tone should look for other strong hues to complement their coloring. Jewel tones in purple and blue look fantastic, as well as neons in pink, yellow and green. Additionally, they are one of the few skin tones that can really pull off a crisp white.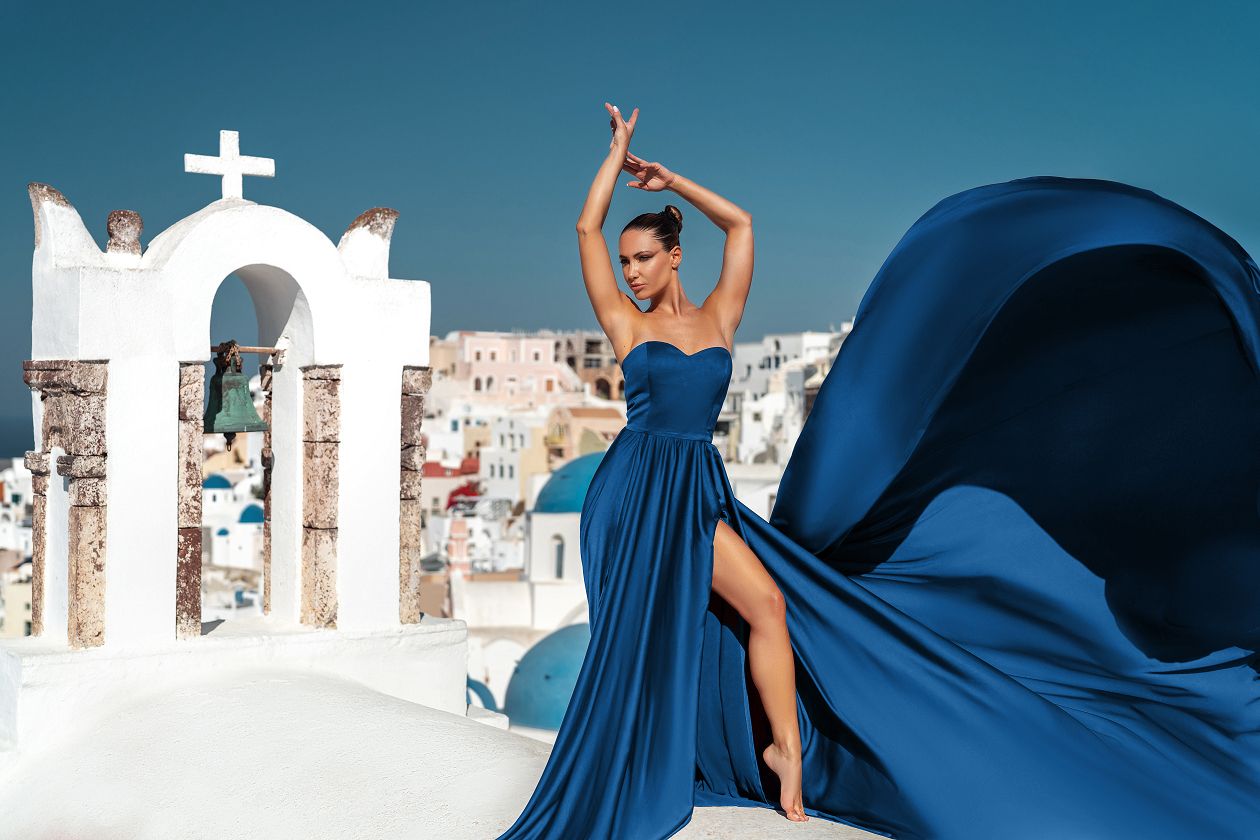 Find your hair shade & its ideal
Santorini dress
color pairing
Whether you're a hair color chameleon or have been the same shade your whole life, your hair is your crown jewel and should play a role in your overall Santorini Flying Dress photoshoot. Finding a dress color that goes with your hair shade can tie the whole look together and create a stylistically stunning image. Learn below which dress colors enhance your mane attraction.  
Most flattering colors with blonde hair
Ranging from icy to caramel to honey, there's a wide variety of blondes out there. Though the spectrum runs wide, blondes of many shades pop in dark colors such as navy and black. Blondes can also consider red or deep yellow, which brings out the golden color that is so synonymous with their hair shade. 
Most flattering colors with brown hair
Probably the most versatile hair color, brown haired women have a lot to choose from with their dress shade. Rich, warm colors such as bright red or royal purple tend to look fantastic on brunettes. Even though it is nearly impossible to go wrong with black, it is the one color of a dress that may not make a brunette's beautiful hair shine. 
Most flattering colors with red hair
The most unique mane color around, women with red hair should be on the lookout for any shade of green during their Santorini Flying Dress photoshoot. Rich emerald and kelly green are super complementary, but yellow-greens may clash against red hair. Because they tend to have a fair complexion, very light pastel colors or whites may not work well on redheads. 
Most flattering colors with black hair
To stand up to the darkest hair color around, women with black hair should choose a bold dress color. Bright pinks and berries as well as lemony yellows and deep purples hold up nicely to such an intense hair color. For a true vixen look, women with black hair are blessed that they can typically pull off a fire engine red like nobody's business. 
Flying Dress insider tip: Looking to find your body shape's most flattering dress? Check out the Premier Santorini Dress Guide for Every Body Type for helpful ideas
Santorini, with its picturesque landscapes and breathtaking sunsets, is a dream destination for many couples and photographers alike. As you plan your photo shoot on this enchanting Greek island, one crucial element to consider is the color of your dress. The right dress color can complement the stunning backdrop and elevate your photos to new heights. In this guide, we'll explore some color options that harmonize beautifully with Santorini's distinct charm.
Classic White: Timeless Elegance There's something undeniably ethereal about a flowing white dress against the iconic blue-domed churches and whitewashed buildings of Santorini. White represents purity, simplicity, and a touch of effortless grace. Whether you opt for a delicate lace gown or a bohemian-inspired dress, white will always create a sense of timeless beauty against the island's idyllic scenery.

Soft Pastels: Serenity in Hues Pastel shades like blush pink, baby blue, and mint green are perfect for those seeking a softer, romantic look. These gentle hues blend seamlessly with Santorini's natural palette, reflecting the island's tranquility and serenity. Pastel-colored dresses evoke a dreamy atmosphere, creating a captivating contrast against the vibrant blue sea and volcanic cliffs.

Vibrant Reds: Passion and Energy For those who want to make a bold statement, a vibrant red dress can be a show-stopping choice. Red symbolizes passion, energy, and strength, commanding attention against Santorini's whitewashed backdrops. Picture yourself standing atop the Caldera cliffs, wearing a stunning red gown, as the setting sun paints the sky with shades of crimson. The juxtaposition of fiery red against the island's cool hues will create a striking visual impact.

Cool Blues: Embracing the Aegean Sea To fully immerse yourself in the Santorini experience, opt for dresses in various shades of blue. From soft sky blue to deep navy, blue hues seamlessly blend with the island's surrounding Aegean Sea. These colors evoke a sense of tranquility and evoke the captivating essence of Santorini's coastal charm. Embrace the Mediterranean vibe with a flowy blue dress that mirrors the island's enchanting waters.

Earthy Neutrals: Embracing Nature Drawing inspiration from Santorini's volcanic terrain, earthy neutrals like beige, taupe, and sand tones are a wonderful choice. These shades harmonize with the island's natural elements, including the sun-soaked cliffs and rugged landscapes. Earthy neutrals exude a sense of organic beauty, allowing you to merge seamlessly with your surroundings while still standing out in your photographs.
Remember, while these color suggestions can help guide your dress selection, the most important factor is to choose a color that resonates with your personal style and complements your complexion. Whether you decide to embrace the classic white, the soft pastels, the vibrant reds, the cool blues, or the earthy neutrals, Santorini will provide the enchanting backdrop for your unforgettable photo shoot.
We hope this dress color guide inspires you to find the perfect dress that not only showcases your individuality but also enhances the allure of Santorini's captivating beauty. Let the colors speak, as you embark on an unforgettable journey, creating memories that will last a lifetime.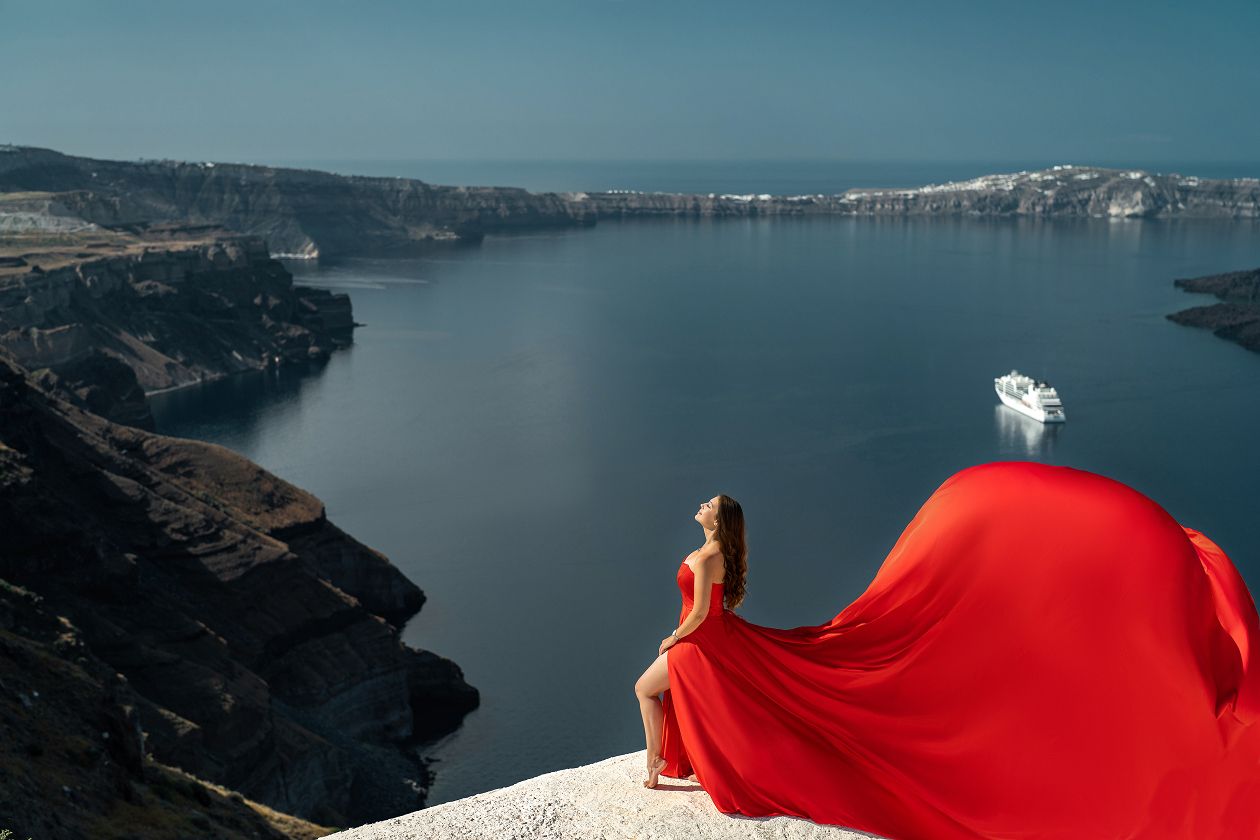 Use the
Santorini Dress Color Guide
to find your idyllic Flying Dress look
Create images that are chromatically pleasing thanks to the ultimate Santorini Dress Color Guide. Ensure that your skin tone and hair shade pops beautifully when you find a dress in our extensive collection that looks amazing on you. Select from bright and bold hues or subtle and soft colors in our catalog and prepare for the photoshoot of your dreams.
Find the package that best suits you so you can showcase your beauty. Learn about the many packages available and prepare for an unforgettable Flying Dress experience.
You may like
Santorini Flying Dress Photoshoot Tips To Strike a Pose Like a Model!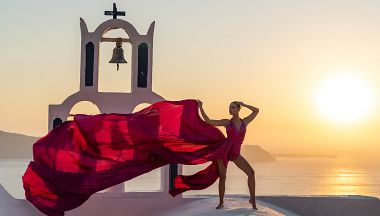 Are you considering a Flying Dress photoshoot in Santorini but worry about how to execute the poses flawlessly?
How to craft the ultimate Flying Dress Shoot with your Personal Photographer in Santorini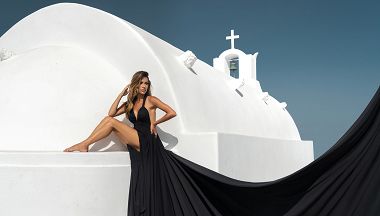 Are you considering a Flying Dress photoshoot, the most epic pictorial in Santorini and beyond?
Santorini Flying Dress Photoshoot Checklist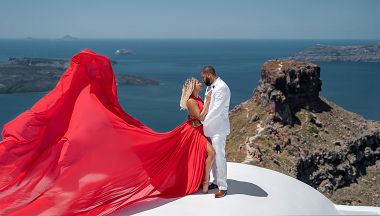 Are you planning for a Flying Dress photoshoot during your holidays in Santorini but want to make sure that you're fully ready beforehand?