Are you considering a Flying Dress photoshoot, the most epic pictorial in Santorini and beyond? Do you wonder how to assemble the ultimate photo session for beautiful images with a sense of ease? Fear not; there are sure-fire steps to take during your photoshoot with your personal photographer in Santorini that guarantees flawless images. Keep reading to discover exactly how to execute a show-stopping Flying Dress photo session in Santorini. 
Concocting the ultimate
Santorini
Flying Dress Photoshoot
in a nutshell:
Step 1:

Channel your inner fashionista

. Be discerning when picking out the right dress for you. Consider your body shape and skin tone, not what's trendy.

Step 2:

Work it, but work it right

. Try not to go overboard with poses. Keep it simple and within your capabilities and trust your photographer's directions & advice.

Step 3:

Opt for up, up, and away with hair.

Resist the temptation to wear your hair down, especially on windy days. Tie it in a gorgeous up-do and show off your face.

Step 4:

Travel light

. Eliminate stress and leave behind extra stuff to carry. Remember to only bring things to keep you cool, like a towel and water bottle. 

Step 5:

Be practical with shoes

. Keep your comfort and safety at the forefront of your mind. Wear shoes that are sturdy, easy to walk in, and simple to slip on and off. 

Step 6:

Request assistance.

Speak to your

personal photographer in Santorini

about hiring an assistant. Rely on their expert help and insider knowledge throughout the day.



1. Select your
Santorini Dress
Carefully
Like with most things in life, embracing and highlighting the best of you is essential in creating a stunning Flying Dress pictorial. With a catalog of looks at your disposal, your Flying Dress personal photographer in Santorini has many dresses you can choose from. Go for a dress that looks flattering on you, not what is the trendiest.
Be sure to always dress for your body type. For example, an off the shoulder dress that has coverage in the back works for many body types but isn't matronly. Close-back dresses are well suited for bustier women, especially if a bra is necessary. Additionally, religious and cultural accommodations can be taken into consideration such as long sleeves and more modest cuts that do not show a lot of skin. 
Flying Dress insider tip: Need some outfit inspiration? Check out How To Choose the Perfect Santorini Flying Dress To Look Like Model for your ideal look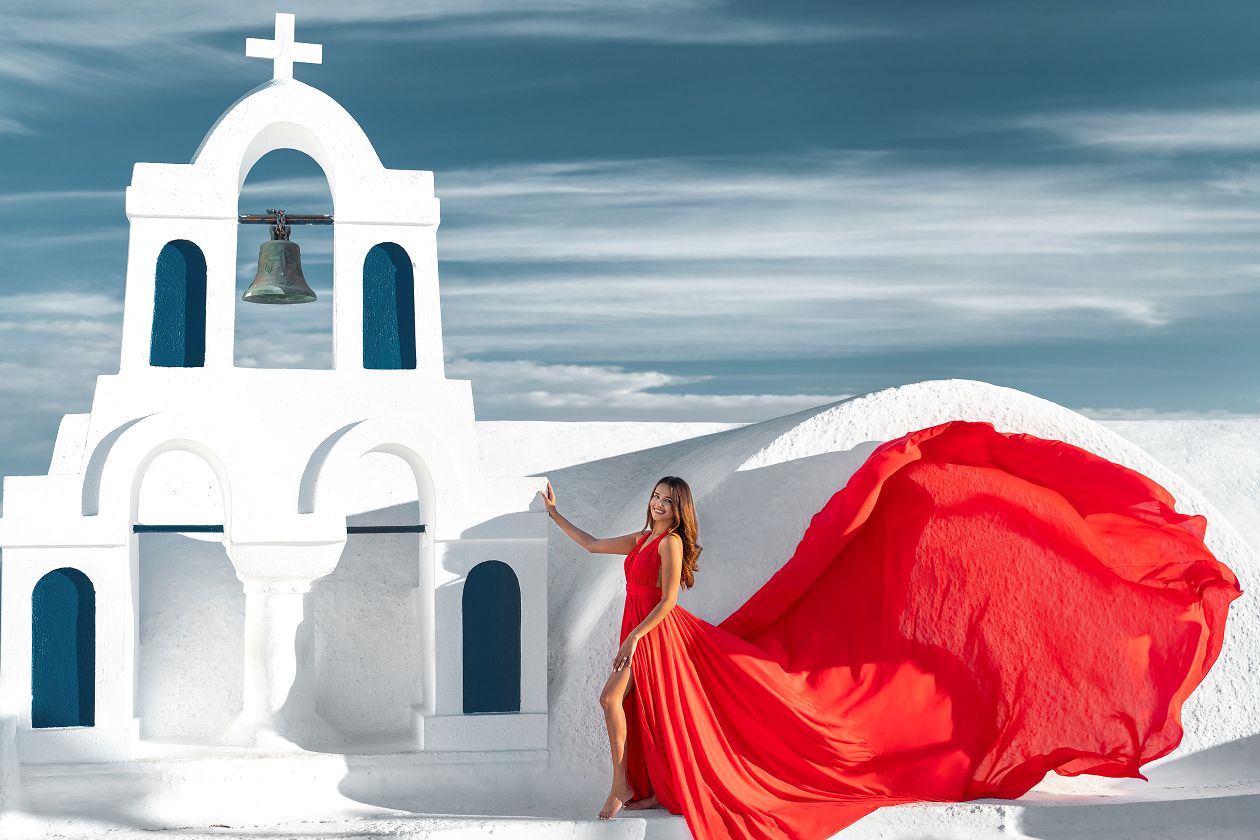 2. Keep your Poses Simple
Let's be honest: posing for photos can be awkward. Throw in a flowing dress and uneven ground, and things start to get even more complicated. Posing should be effortless and chic, which is achievable when you keep it simple. The Santorini dress and landscape are already so beautiful on their own that practicing a minimalistic approach is the key to lovely images.
If you're doing a photoshoot with your partner, avoid any complicated or aerial posing unless you both are dancers and have plenty of experience doing so. Another pose that tends to come off as awkward is when the model lies down. Last but not least, listen to your photographer's directions and advice with posting for excellent results.
3. Consider an Up-do Hairstyle
Though you may feel tempted to embrace your inner-Greek goddess by wearing your hair down in a flowing mane, your personal photographer in Santorini is likely to warn you against doing so. Having your hair up, whether in a low ponytail or a sleek top knot, means that the signature windiness of Santorini does not whip your hair onto your face throughout the photoshoot.
Luckily, Santorini is full of hairstylists, many of whom make personal house calls to help style you to perfection for any type of photoshoot. Of course, your Santorini Flying Dress pictorial is all about what makes you confident, so if an up-do doesn't make you feel like yourself you should make that judgment call on your own.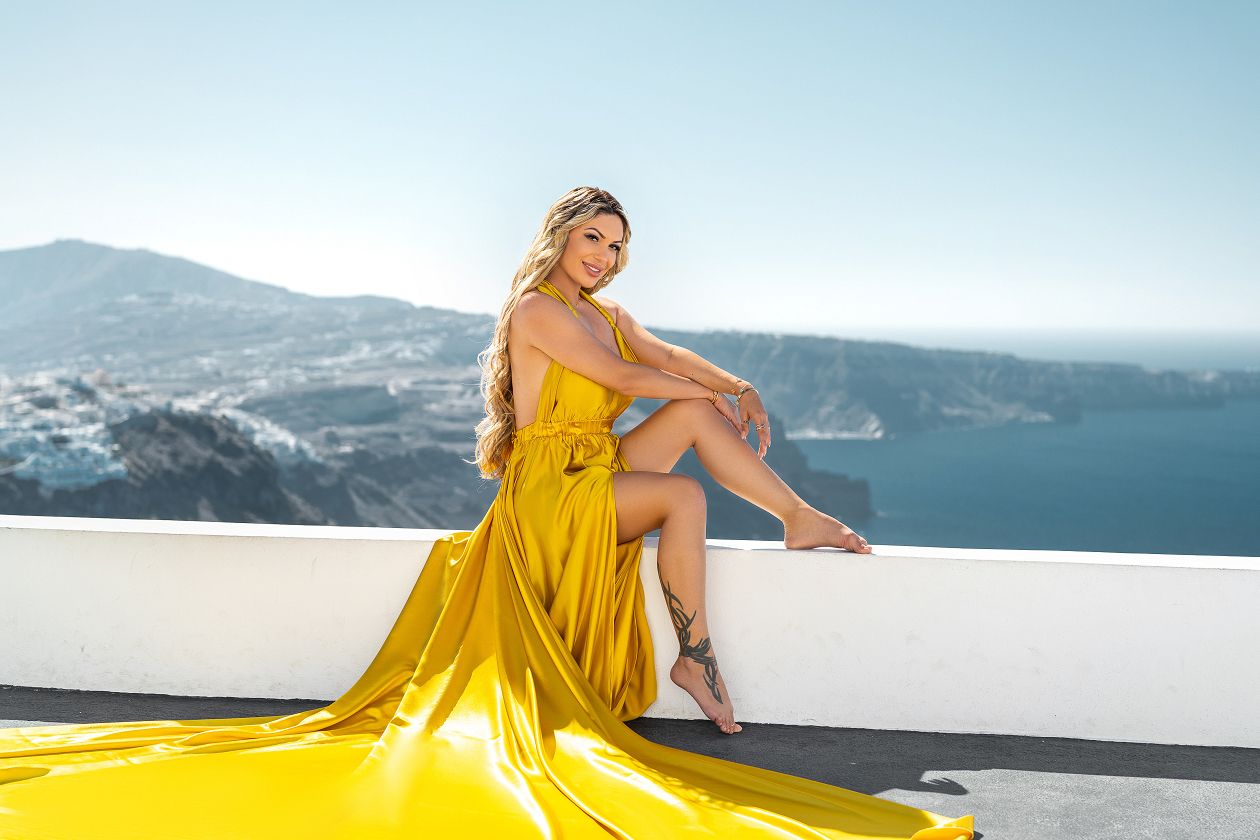 4. Leave Behind Excess Things
Ask any Santorini photographer what the least fun part of their job is and they'll probably tell you it's all the equipment they lug around. Santorini's beauty is also what makes walking around it somewhat difficult: cobblestone streets, narrow and winding pathways, and uneven ground. Do yourself a favor and do not make your life difficult by navigating the tricky topography with loads of stuff in tow.
The few things you should bring along with you during your Flying Dress outing is anything that helps keep you cool and comfortable. The intense sunshine and heat in Santorini are no joke, especially when you're wearing a billowy dress. It is advisable to have with you a small towel in case you get sweaty, as well as a bottle of water to keep you properly hydrated. Otherwise, leave it behind!
 5. Wear comfortable shoes
Again, bear in mind that Santorini's terrain is tricky to walk even under the most prepared of circumstances. It is an ancient island that sits atop a cliffside and was not initially built for visitors to be trekking about. However, get out ahead of this would-be problem and remember to dress in comfortable and practical shoes for your outing.
You and your personal photographer in Santorini are surely to work on curved chapel roofs where you are going to be barefoot, so in addition to your shoes being comfortable they should also be easy to slip on and off. Any sort of sturdy-soled slipper or laceless sneaker is precisely the type of shoe that is perfect for comfortable, durability, and ease. 
 6. Rely on an Assistant 
We all need a little help every now and then. Contact your Santorini photographer at least a few days in advance if you are interested in having them bring along an assistant just for you. Even if you plan to have a friend or your partner along for the shoot, an expert assistant is by your side to fluff your dress, help with poses, and offer other insider tips.
Keep in mind that having an assistant during your photoshoot is an added expense, though some packages include it in the bundle. When it comes down to it, an assistant is truly worth it. Time and time again, clients comment on how an extra set of hands, some moral support, and a sense of efficiency made all the difference.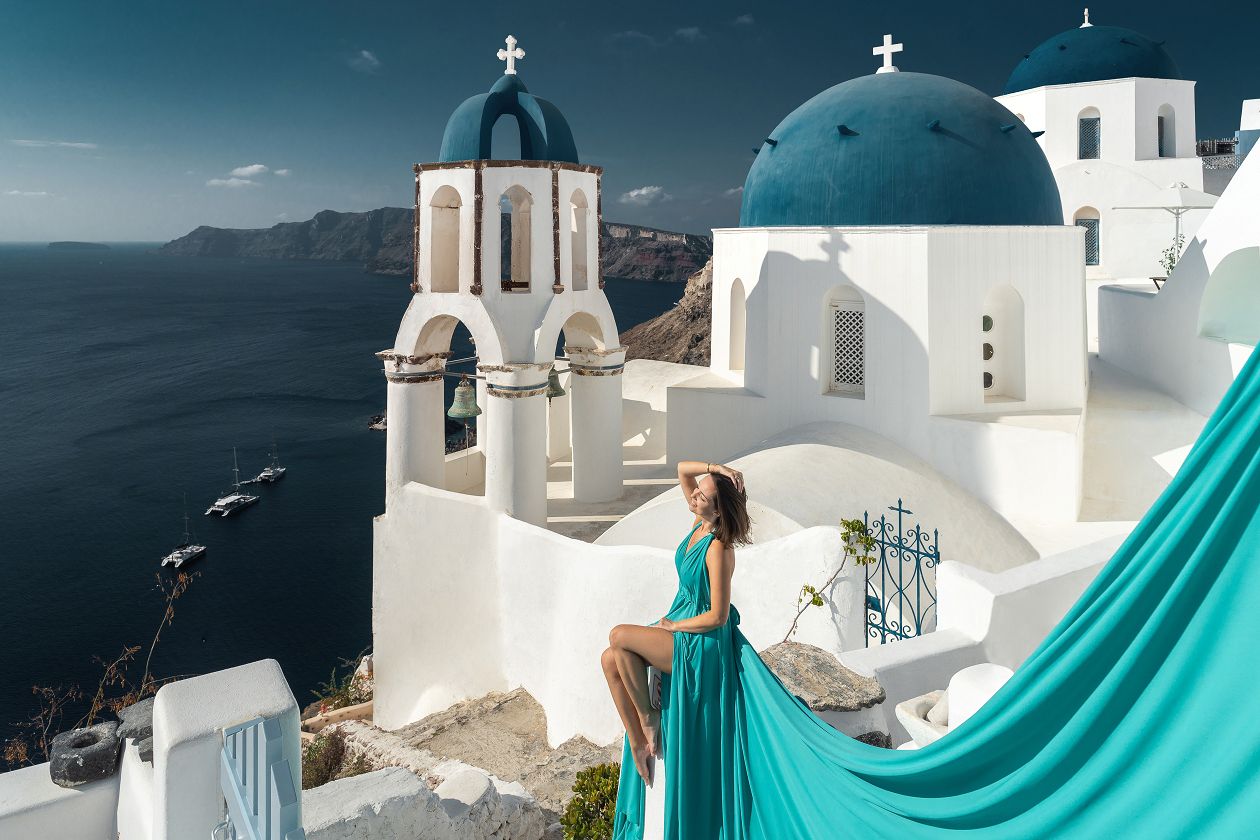 Put together the
Santorini Flying Dress
photo session of your dreams
Crafting the perfect Flying Dress photoshoot is achievable when you follow some easy guidelines. Keep it simple, keep it fresh, and most of all, keep it authentic to you. At Flying Dress, we implement our years of experience and passion in what we do to ensure you look and feel beautiful and experience minimal stress during your portrait session with us.
Ready to get it going? Check out the Flying Dress photoshoot packages and select the one that's perfect for your visions of stunning Santorini pictorials.
You may like
Santorini Flying Dress Photoshoot Tips To Strike a Pose Like a Model!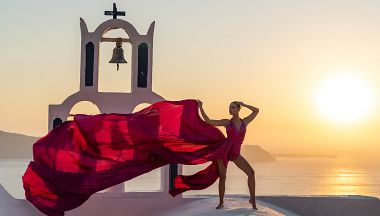 Are you considering a Flying Dress photoshoot in Santorini but worry about how to execute the poses flawlessly?
How To Choose the Perfect Santorini Flying Dress To Look Like Model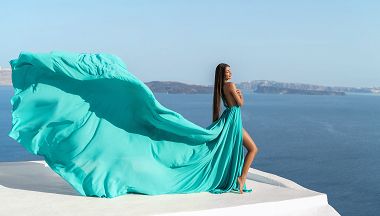 When thinking of a Flying Dress pictorial in Santorini, finding the right dress that makes you feel beautiful is non-negotiable.
Santorini Best Photo Spots for Stunning Sunset Views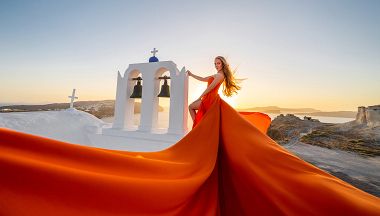 Do you dream of experiencing the world-famous Santorini sunset up close and personal?