Finding the perfect sweet sixteen birthday present for your daughter might be difficult and stressful. There are various birthday present ideas to consider - whether you want to spend a lot to surprise your little princess or just want to give her something creative and thoughtful that lasts in time. If she doesn't want a fancy party this year, an experience gift is probably your best bet. 
Instead of a traditional birthday party, consider taking her on a trip to Greece and treating her to a Santorini Flying Dress photoshoot experience that she will cherish for life. Let her choose the dress and the setting and prepare to create significant memories with the family, a best friend, or even a large or small group of pals. 
Organizing a
Santorini Flying Dress Sweet Sixteen Photoshoot
in a Nutshell
Travel to an idyllic Greek island:

Surprise your daughter with a lifetime trip and prepare to put plenty of thought into deciding where you want the photoshoot to take place.

Let her choose a stunning flying dress

: You'll be amazed at how gorgeous your daughter will look while her dress literally flies up in the air with a fantastic Santorini backdrop.

Trust the experts:

Give serious consideration to hiring a

Santorini photographer.

Talk to a professional about your vision and enjoy a pictorial that you can look back on forever.

Memorialize special moments:

What about candid photography? Create a photo map of your daughter's full day walking around the island in a fab and classy dress. 

Organize a group photoshoot:

Invite her friends (or even family) over, fly them to Greece and get ready to snap group flying dress photos that impress. 
Keep reading to discover five reasons why you need to commemorate your daughter's 16th birthday in style with a Santorini Flying Dress Sweet Sixteen Photoshoot.
1. Travel to an extraordinary location
The first step in planning an amazing sweet sixteen photoshoot is locating the appropriate spot to serve as your princess' natural backdrop. This can be difficult because Santorini is so beautiful from top to bottom, so it requires some serious thought to pick what setting suits your expectations best. Remember, the island embodies a laidback glamour that cannot be found anywhere else in the world!
Looking for something unique and out-of-the-beaten-track? Consider Skaros Rock or the enchanting and organically sculpted "Heart of Santorini." Do you want her to be surrounded by classic Cycladic architecture? Try Imerovigli or Fira, two famous settlements less crowded than Oia. If you want something romantic, traditional, or glorious, Santorini caters to all of your needs. 
2. Let her pick a glamorous
Santorini dress
Is there anything more glamorous than the stunning dresses used in a Flying Dress photoshoot? A Flying dress is not an average "sweet sixteen dress," as it comes in every rainbow hue and boasts magnificent trains that will take everyone's breath away. If she enjoys dressing up, just wait till she gets her hands on a dress from the Flying Dress catalog.
She can choose among various styles and hues ideal for her distinctive body shape and colors. Additionally,  the ultimate Santorini Dress Color Guide can help her capture chromatically pleasing images by ensuring that her skin tone and hair shade pops beautifully when she finds a simply amazing dress.
Flying Dress insider tip: Need assistance finding the perfect dress? Check out our blog Premier Santorini Dress Guide for Every Body Type and the Ultimate Santorini Dress Color Guide for Every Skin Tone & Hair Shade for helpful guidance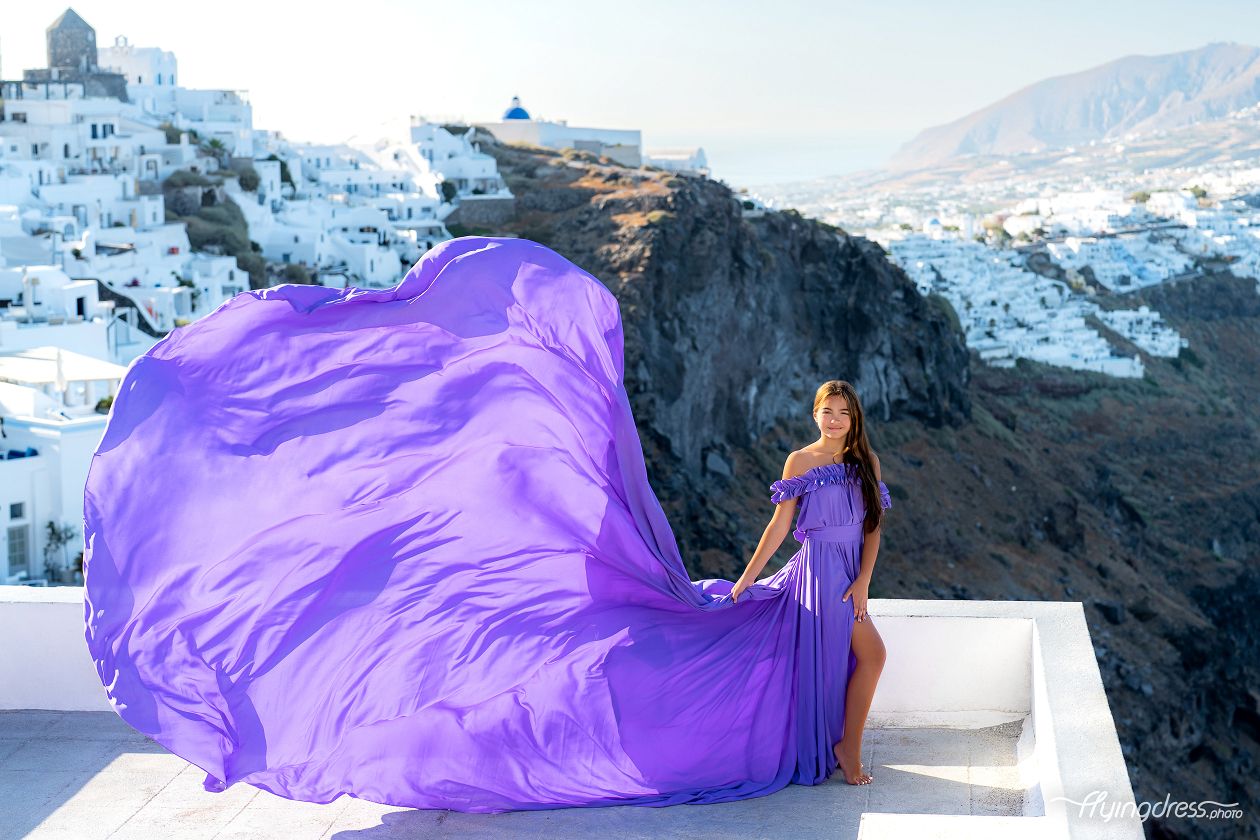 3. Hire a
Santorini photographer
When opting for a Flying dress Santorini photoshoot, with such a stunning backdrop, nothing can really go wrong. Hiring a Santorini photographer is a terrific way to capture your daughter's bliss and create photos that you can cherish for a lifetime. An experienced photographer that knows their whereabouts will guide you through the island's majestic settings to commemorate your daughter's passage to femininity. 
Unlike traditional photoshoots, a Flying Dress photoshoot embodies a high-fashion and artistic approach, so having someone to guide you on how and where to pose editorially can be very helpful. Plus, a skillful photographer can advise you to choose a theme that resonates with your daughter's personality and style and inspire you to select a background that embodies your vision. 
4. Capture the day and memorialize special moments
Hire a candid photographer to capture your 16-year-old's birthday from early in the morning till late at night. This may include candid shots while she wakes up, dresses for the day, enjoys her sweet 16 breakfast, and wanders around Santorini's picture-perfect alleys. By the end of the day,  she'll have a photo map of her entire day, featuring gorgeous images that can be put into a picture book or simply printed and framed to remind her of her sweet 16. 
After all,  it's no secret that photography is typically done to immortalize happy moments. Santorini Flying Dress Sweet Sixteen Photoshoots are perfect for capturing your loved one's special spontaneous moments by herself, with her closest friends or family. It's an out-of-the-ordinary experience that will mark her memory and make her feel like a queen.
5. Opt for a group flying dress photoshoot
If your daughter prefers a sweet 16 birthday party with a large group of her pals, get them tickets and off to Santorini! Make a list of the images your daughter wants the photographer to take before the shooting takes place. For example, she may desire posed photographs with specific friends, her boyfriend, or members of community teams or groups to which she belongs.
Encourage your daughter and her friends to choose a flying dress that suits their standards and consult with your photographer to determine the theme of the Santorini Flying Dress Sweet Sixteen Photoshoot for flawless images. Don't forget about the hair and make-up! Hire make-up artists and hairstylists, let your girls choose their style, and prepare to snap photos that steal everyone's breath! 
Flying Dress insider tip: Like the sounds of a photoshoot with friends or family? Learn more with the blog  Unravel the 3+1 Must-know Tips for a Flawless Santorini Dress Group Photoshoot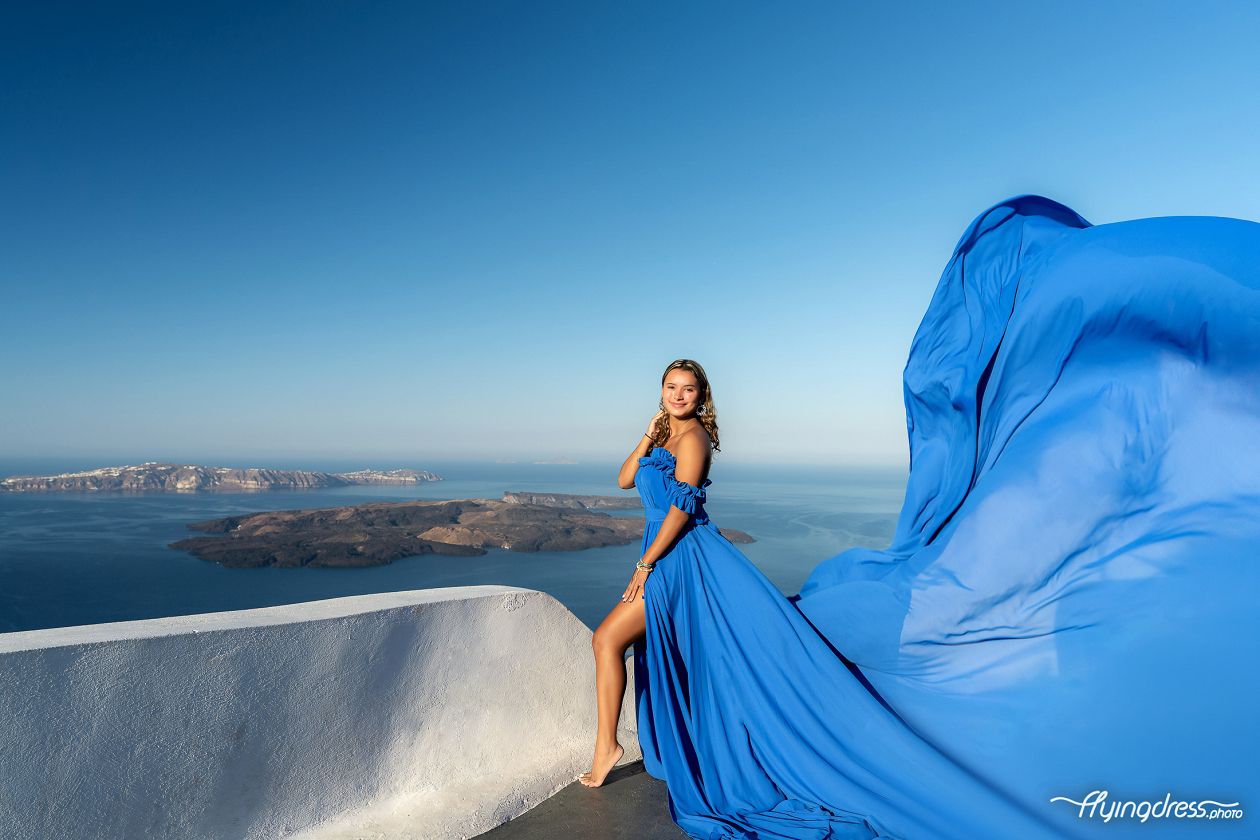 See why a
Santorini dress gift
is an unbeatable choice for your sixteen-year-old daughter
The most significant woman in your life deserves only the best, which is why there is no better gift than a Flying Dress photography session. Nothing compares to Santorini's most high-flying photoshoot, from wearing a breathtaking Santorini dress to capturing unique moments to cherish for a lifetime. Let's discuss your vision for your ideal sweet sixteen birthday present, and let's plan together the perfect day for the woman you love the most!
Find the package that's the right choice for you. Check out the Flying Dress package selection and prepare for a photoshoot to remember for a lifetime.
You may like
Santorini Flying Dress Photoshoot Tips To Strike a Pose Like a Model!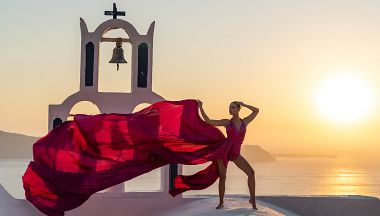 Are you considering a Flying Dress photoshoot in Santorini but worry about how to execute the poses flawlessly?
How To Choose the Perfect Santorini Flying Dress To Look Like Model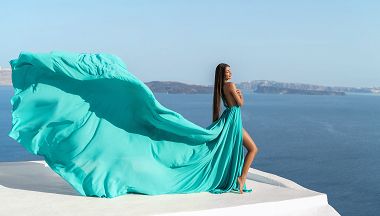 When thinking of a Flying Dress pictorial in Santorini, finding the right dress that makes you feel beautiful is non-negotiable.
Ultimate Santorini Dress Color Guide for Every Skin Tone & Hair Shade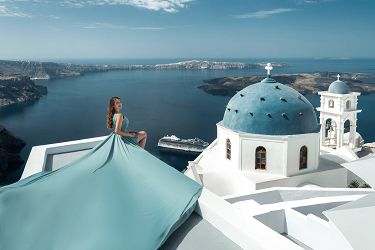 Match your skin and hair colors to the Flying Dress selections with expert precision