Are you considering a Flying Dress photoshoot in Santorini but worry about how to execute the poses flawlessly? You're not alone, and, in fact, many women are concerned about how to pose naturally and feel amazing while doing so. However, there are insider tricks and advice that can help appease any stressors or worries. Read on to learn the Santorini Flying Dress photoshoot tips that are sure to make you look like a pro and feel beautiful!
Learn the
Santorini Flying Dress photoshoot tips
in a Nutshell
Be careful with poses.

Do not try to do poses that you have not practiced beforehand. Remember that professional models have years of practice so don't compare yourself!

Don't neglect your upper region

. Remember to keep your neck elongated and chin pointed slightly upwards. Do not pose only for your body during your photoshoot.

Think of your hands

. Try to not let your arms hang lifelessly and hands be awkward during the photoshoot. Put them on your hip for a nice angle, or within your pockets.

Be one with your clothes

. Work in harmony with your

Santorini dress

. Toss it in the air, twirl it about, and allow the Santorini wind to let it take flight.

Control your mane attraction

. Bear in mind that your hair should be controlled during the shoot. Opt for an up-do for ease, or be prepared with a clip to hold your hair back.

Keep an ear out for your photographer

. Understand that your photographer has your best interest at heart. Listen to their insider tips and tricks for flawless poses.

Be authentically you

. Do not compare yourself to anyone else during your Flying Dress photoshoot. Feel confident, be yourself, and always remember to have fun.




1. Avoid difficult poses
One of the most important things to keep in mind during your photoshoot is to be realistic with the types of poses you will try. It's vital to listen to your body, know your abilities, and feel comfortable while you are in the shoot. 
Most of the poses that you see professional models doing are extremely difficult, and they have had years of practice to nail the look. Unless you practice in the mirror beforehand at home, it's best to avoid these types of poses in general. Keep it simple and it will look gorgeous!
2. Stay aware of your chin & neck
Here is one of the golden rules of modeling: keep your head facing up. It's not unusual for models to be so concentrated on posing their bodies that they forget all about their upper region. When modeling, it is crucial to not have many poses looking down in order to eliminate the illusion of a short neck and other unflattering angles that are otherwise easy to avoid. 
One way to ensure a sleek, long neck and sharp facial angles is to keep your chin pointed up. Push your neck slightly forward and tilt your chin at an upwards angle to instantly elongate your neck. The key is not to overdo such poses, which can turn unnatural if not careful. By being aware of the area above your shoulders the whole look comes together flawlessly. 
3. Figure out to do with your arms & hands
If you've ever said the phrase, "I don't know what to do with my hands" during a picture, you're not alone. Even models with years of experience can feel awkward and unsure of what to do with their hands while striking a pose. The key is to, as always, keep it natural, while also using your hands to your advantage to manipulate the shape and curvatures of your body.
Avoid keeping your arms lifeless at your side and use them to help create curves. Consider popping an elbow and placing your hand on one hip. Hands can be on one waist, on the leg, touching the hair, the neck, or any combination of these movements. Also, be acutely aware of your fingers and wrist, which you can show off in an elegant way.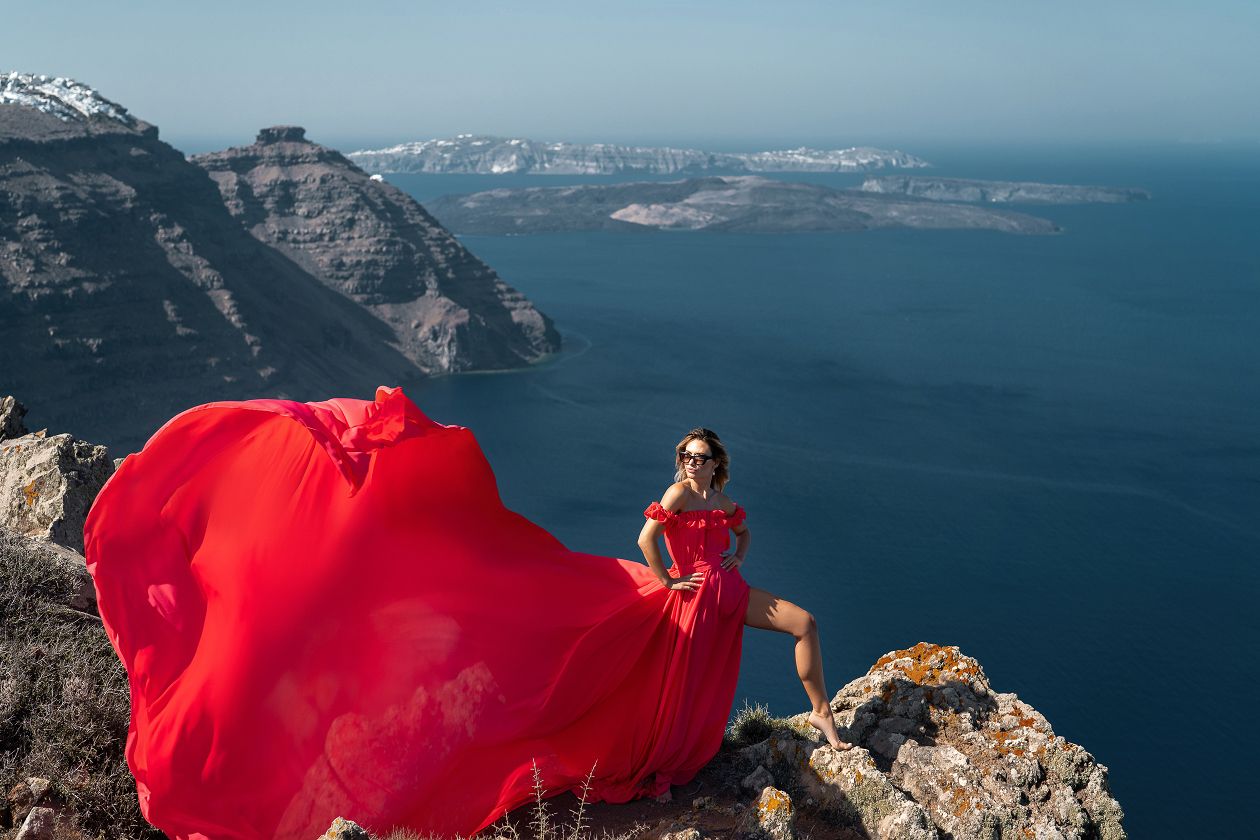 4. Work harmoniously with your clothes
Especially with a Santorini Flying Dress photoshoot, the outfit makes all the difference. You are likely to spend significant time before your photoshoot selecting the perfect dress that suits you, so it's worth it to really work it when the time comes. Study your favorite fashion magazines and models and see how they make their outfits a playful prop during photoshoots.
When doing a Flying Dress pictorial, there are so many ways to play up your look that evoke a real wow factor. From twirling, to lightly tossing your dress into the air with one hand, to even letting the quintessential Santorini wind catch the skirt naturally, the dress does a lot of the hard work for you. All you have to do is play up the dress' strengths and you're all set. 
5. Be mindful of your hair
For many women, their hair is one of their greatest accessories. But since you're outside during a Santorini Flying Dress pictorial, the elements sometimes get in the way. Especially on windy days, a woman's mane may get tousled, tangled, and otherwise serve as a distraction during a photoshoot, so it is imperative that you have control over it. 
As a preventative measure, many women opt for an up-do before a photoshoot, which can be easily arranged in a place like Santorini with so many hairdressers. If wearing your hair down feels more authentic to you, then be sure to bring a clip, hairspray, or any other tool that will help you to keep your hair in check throughout the day.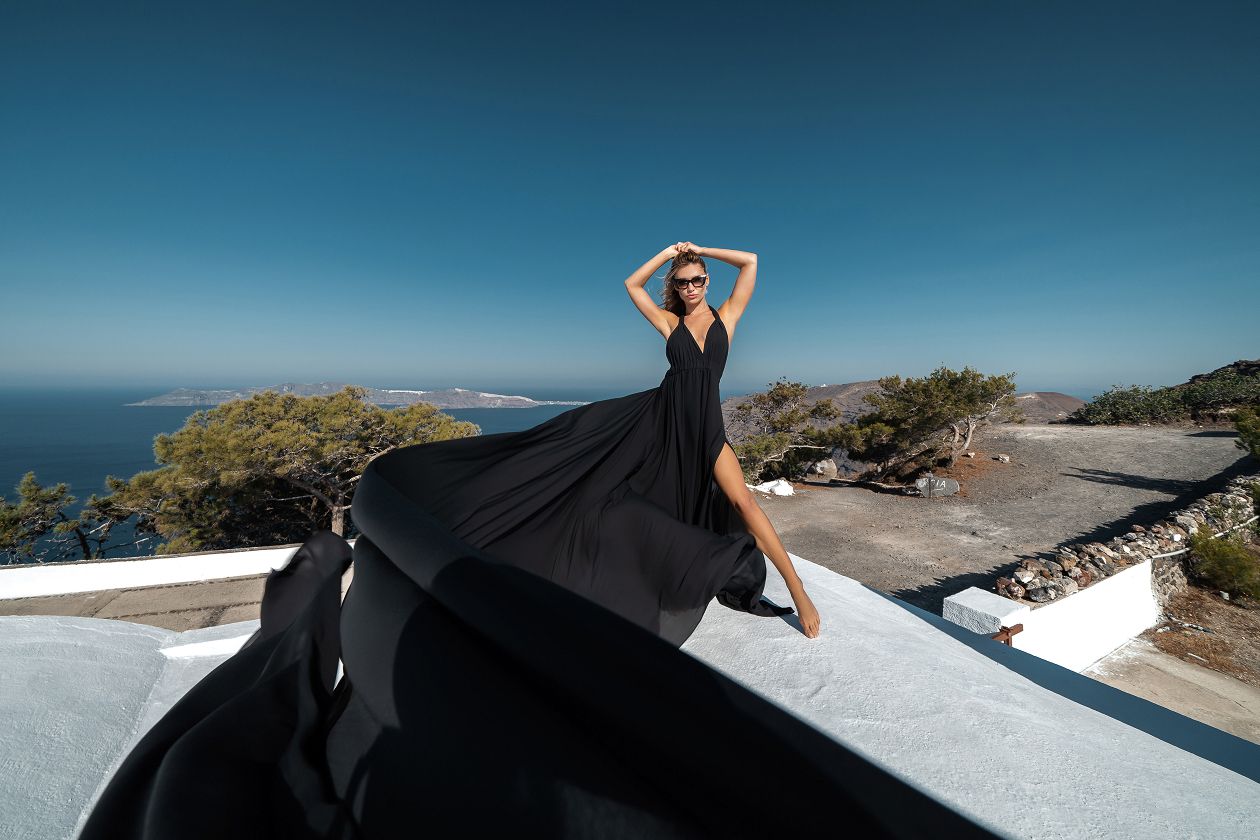 6. Listen to your
Santorini photographer
With years of experience in the industry, your Flying Dress photographer is a well-regarded professional in the field. Even if you have a vision for the day, which is always a plus, bear in mind that your photographer has been doing their job for quite some time and knows the tricks of the trade. Listening to their advice and guidance is a smart way to ensure high-quality photographs.
Especially since a Flying Dress pictorial is a very specific kind of photoshoot, it is even more vital to listen to some insider tips from your photographer. From how to eloquently toss your dress, to the poses and angles that are most flattering, your photographer has Santorini Flying Dress photoshoot tips that are your gateway to jaw-dropping images.  
7. Be yourself & have fun!
Above all else, the most important thing to keep in mind during your Santorini Flying Dress pictorial is that you're there to feel beautiful and have a great time. It is a uniquely fun photoshoot that centers on combining gorgeous fashion, stunning sceneries, and an experience unlike any other in order to create images to cherish for a lifetime. 
The photoshoot is the chance to creatively express yourself, try something completely new, and feel like a model for the day. Don't worry about comparing yourself to other Flying Dress images you've seen before; just focus on how beautiful you feel and look at yourself! If you are confident and authentically you, there is nothing that stands in your way of picture-perfect images.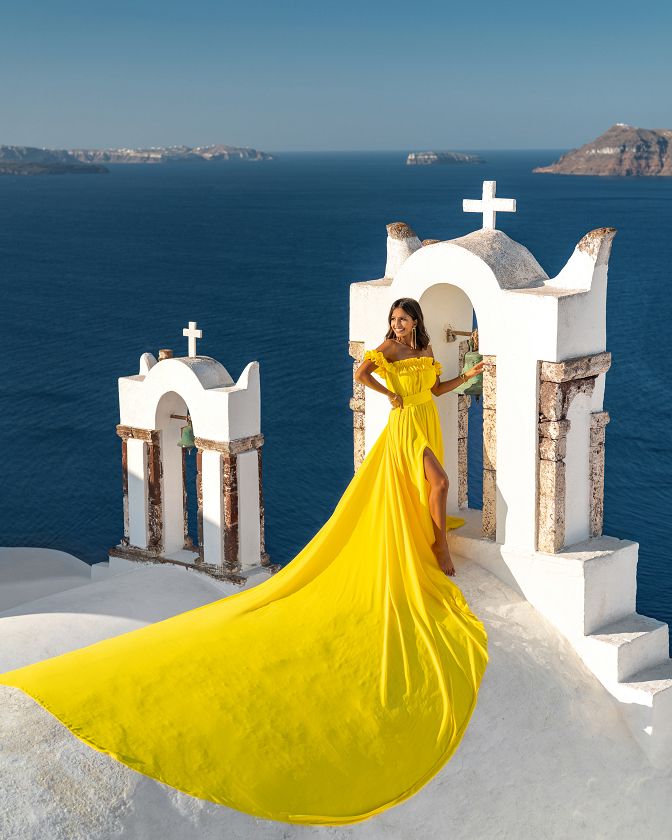 Team up with a
Santorini photographer
for amazing model-quality-photo insider tips 
At Flying Dress, we understand that it can be intimidating to do a highly stylized photo session. That's why our team is packed with Santorini Flying Dress photoshoot tips that are sure to make you feel confident and pose like a professional in no time. We vow to share our best insider tips and tricks with you so you have the perfect images you've been dreaming about.
Let's get started to find you the ideal Flying Dress photoshoot packages. Learn more about what we offer so you can always remember your time in Santorini.
You may like
Santorini Best Photo Spots for Stunning Sunset Views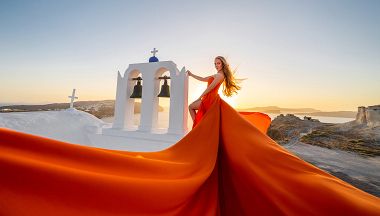 Do you dream of experiencing the world-famous Santorini sunset up close and personal?
How to craft the ultimate Flying Dress Shoot with your Personal Photographer in Santorini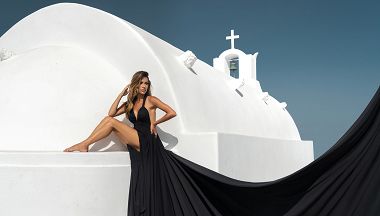 Are you considering a Flying Dress photoshoot, the most epic pictorial in Santorini and beyond?
How To Choose the Perfect Santorini Flying Dress To Look Like Model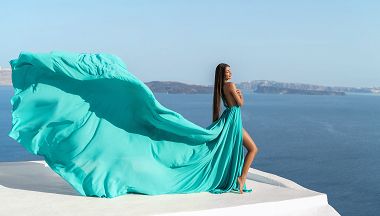 When thinking of a Flying Dress pictorial in Santorini, finding the right dress that makes you feel beautiful is non-negotiable.