Are you on the search for a unique gift for the special woman in your life during your Santorini holidays? Do you want it to be a gift she remembers forever? Look no further! A Santorini dress gift for a high-flying photoshoot is a perfect way to show the woman you love how much she means to you. Read on to discover why a Flying Dress photoshoot is the best gift to give to any woman visiting Santorini. 
Discover a
Santorini dress gift
package in a nutshell 
Be a model.

Every woman deserves to feel like a professional model at least once in her life. Let her strike a pose and get dolled up for a fantastic professional photoshoot. 
Dress to perfection.

Feel like a million bucks in a dramatic Santorini Flying dress. Select from vibrant colors and flattering cuts for every woman.
See Santorini.

A Flying Dress photoshoot is the premier way to experience the beauty of Santorini's landscape. Travel to villages or beaches in pursuit of the ultimate location. 
Remember moments forever.

Never forget special moments during a Santorini holiday. Capture unforgettable moments like proposals or birthdays with a

flying dress gift

.




1. Feel like a model for the day
One of the most extraordinary parts of a Santorini Flying Dress photoshoot is that it allows women to experience feeling like a professional model for a day. Unlike traditional photoshoots, there are many details and logistics involved in a Flying Dress photoshoot that elevates women to a level of professional model glamour like no other.
During a Flying Dress photoshoot, no expenses are spared to make it the ultimate modeling experience. In addition to wearing a fantastic dress, most women opt to have their hair and makeup done for a well-rounded look. Let her enjoy the day being guided by an experienced Santorini photographer, receive tips on how to pose like a pro, and see what it feels like to be a star in front of the camera. 
2. Wear in a glamorous
Santorini dress
Is there really anything more fabulous than the iconic dresses used during a Flying Dress photoshoot? Representing all colors of the rainbow and with dramatic trains that are sure to take your breath away, a Flying dress is no ordinary dress. If playing dress-up is something she loves to do, wait until she gets ahold of a dress from the Flying Dress catalog.
Within the extensive collection of dresses, she can find a plethora of cuts and colors that are perfect for her unique body shape and coloring. Whether it be a plunging neckline to show off beautiful collarbones and décolletage or something with a bit more coverage for a modest look, there's a fabulous dress for every woman.
Flying Dress insider tip: Need assistance finding any body shape's perfect dress? Check out our blog Premier Santorini Dress Guide for Every Body Type for helpful guidance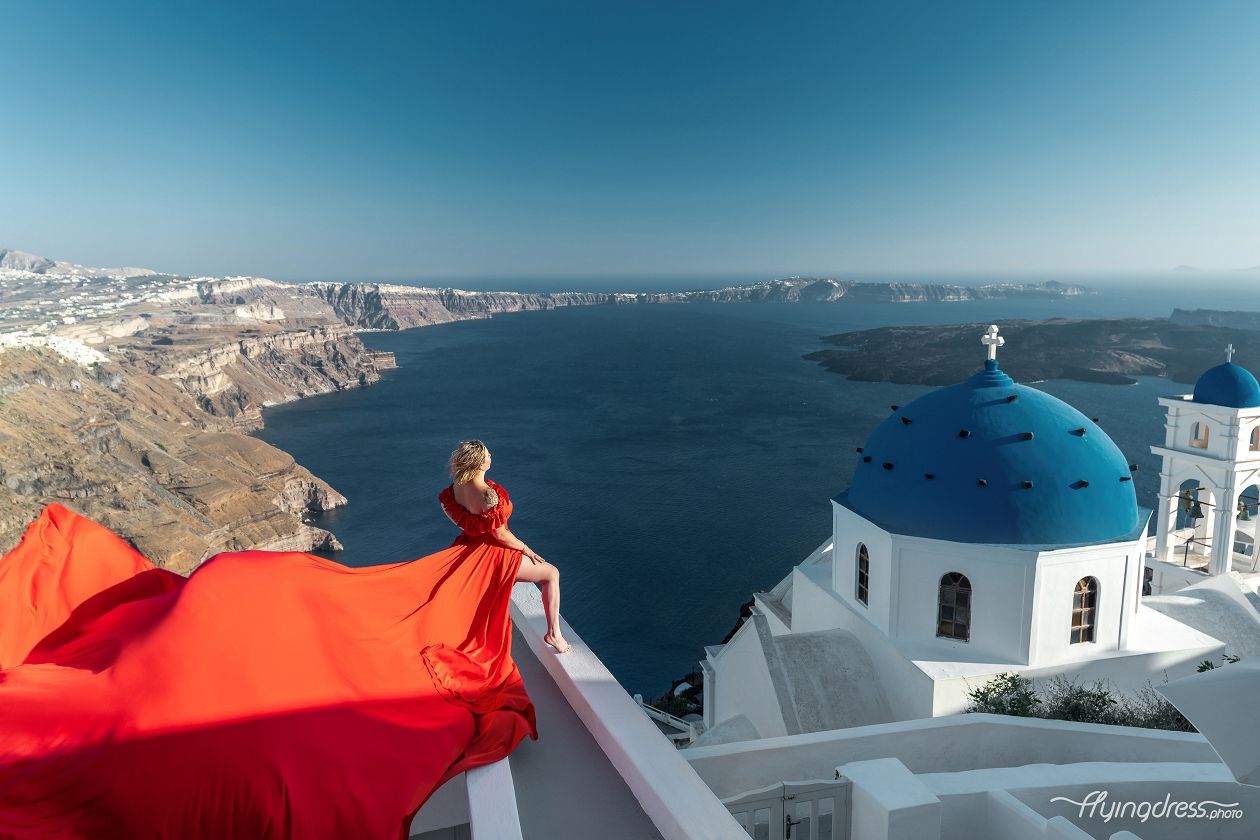 3. Travel to unique corners of the island
In many ways, a Flying Dress photoshoot is one of the most spectacular and fun ways to see parts of Santorini. Under the helm of a professional photographer, a Flying Dress photoshoot is shot in locations that are known for their beauty and dramatic backgrounds. And since the photoshoot doesn't need to occur in only one location, there is the option to travel about and see numerous locales.
With a Santorini dress gift, the receiver of the present can select from many different locations for their Flying Dress photoshoot. Among the most popular spots for such a photoshoot includes the villages of Imerovigli or Fira for their stunning sea views and iconic landmarks. For something a bit more ethereal and laidback, a beach photoshoot can be arranged. No matter where the photoshoot takes place, it awards participants the opportunity to travel to the best parts of Santorini. 
4. Memorialize special moments 
It is no secret that photography often happens during times of great joy so that the moment can be remembered forever. This notion rings true for a Flying Dress photoshoot as well. If your loved one will be in Santorini for a milestone moment or will be traveling with her favorite people, there is no better way to capture this moment in time than with a breathtaking Flying Santorini Dress photoshoot.
Among some of the most frequently special moments in which a Flying Dress photoshoot is selected as a gift for women is during a Santorini proposal, birthday celebration, or group holiday with best friends. Whether it's the most important day of her life or just a lovely outing with friends or family she wishes to look back on fondly, there's no better gift to memorialize the day.
Flying Dress insider tip: Like the sounds of a photoshoot with friends or family? Learn more with the blog  Unravel the 3+1 Must-know Tips for a Flawless Santorini Dress Group Photoshoot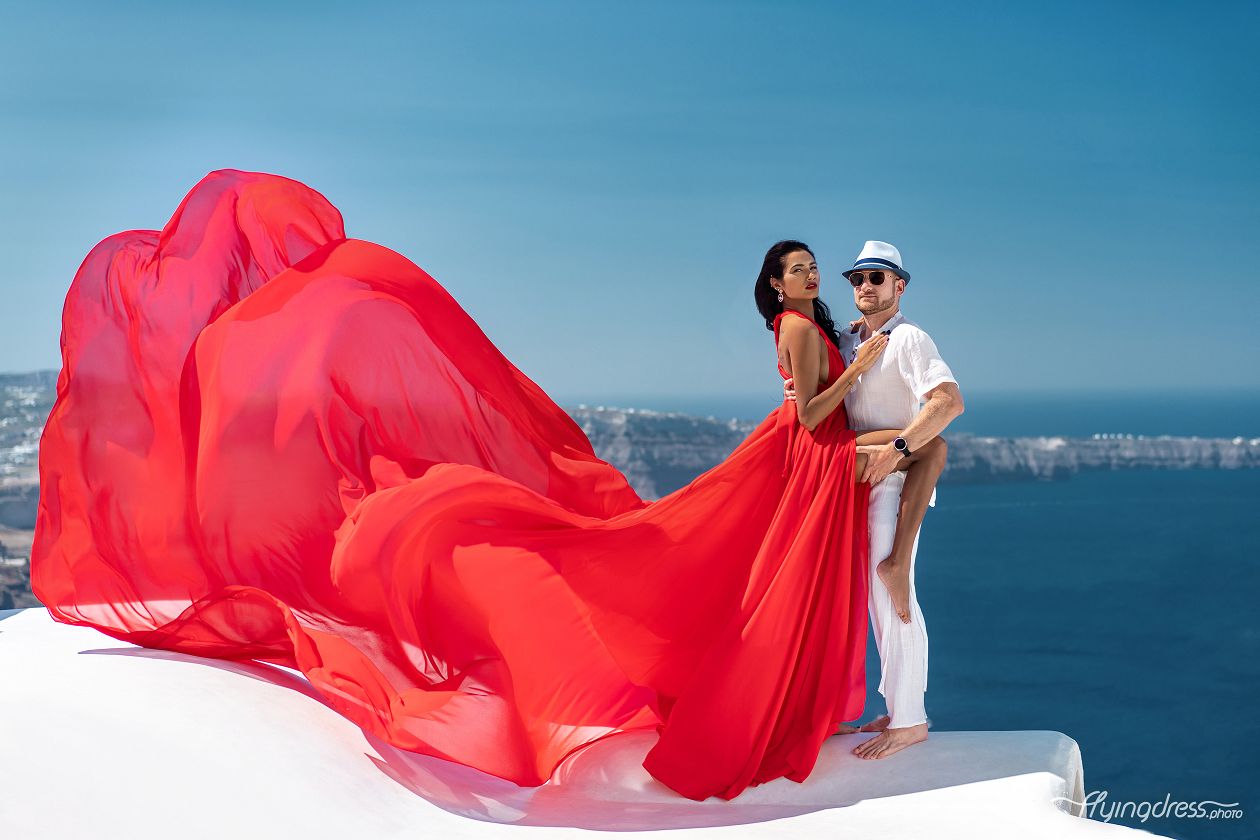 See why a
Santorini dress gift
is an unbeatable choice for any woman
The most special woman in your life deserves the very best, and that is why there is no gift quite like a Flying Dress photoshoot. From wearing a stunning Santorini dress to capturing exceptional moments to cherish for a lifetime, there's nothing that quite compares to Santorini's most high-flying photoshoot. We would love to discuss the gift of a Flying Dress photoshoot with you more so we can arrange a perfect day for the woman you love.
Find the package that's the right choice for you. Check out the Flying Dress package selection and prepare for a photoshoot to remember for a lifetime.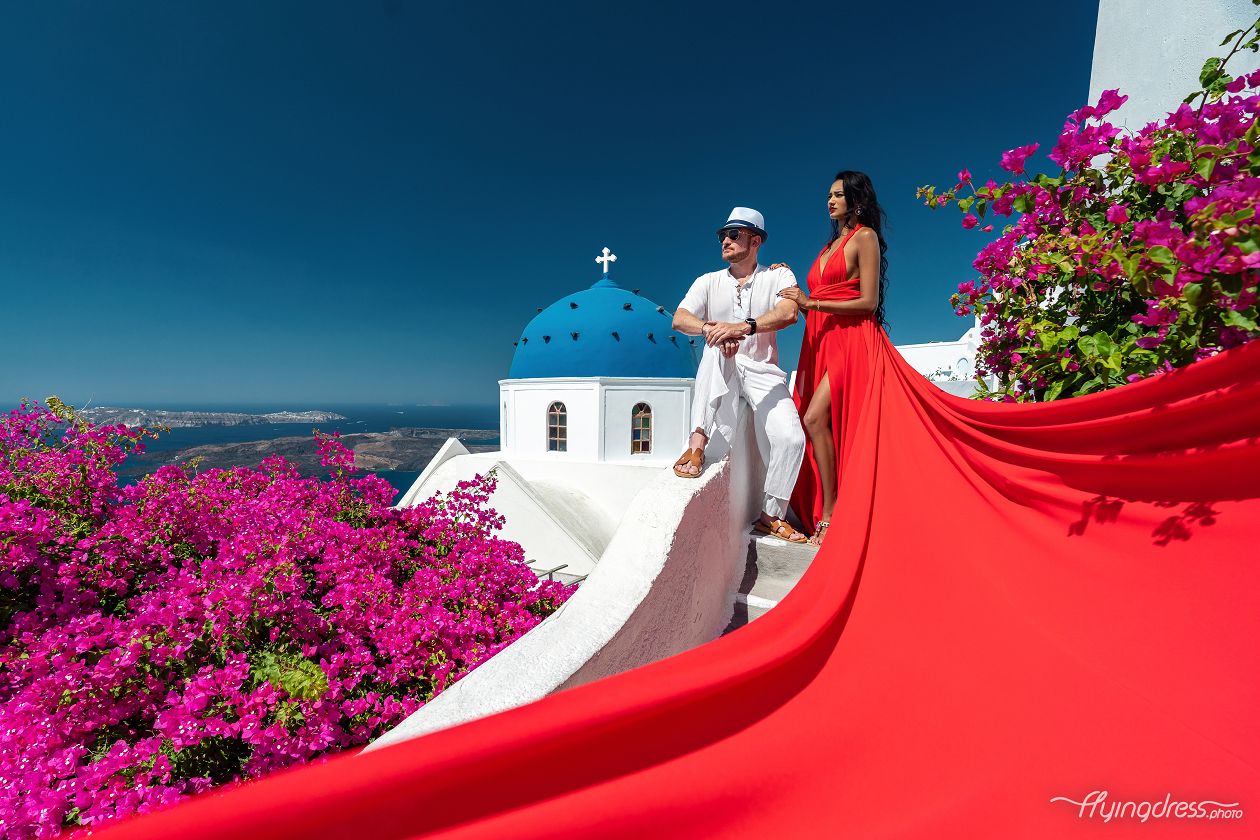 You may like
Santorini Flying Dress Photoshoot Tips To Strike a Pose Like a Model!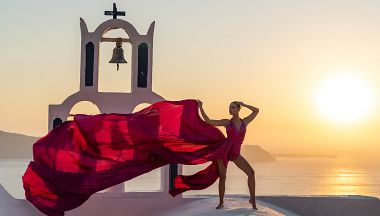 Are you considering a Flying Dress photoshoot in Santorini but worry about how to execute the poses flawlessly?
Premier Santorini Dress Guide for Every Body Type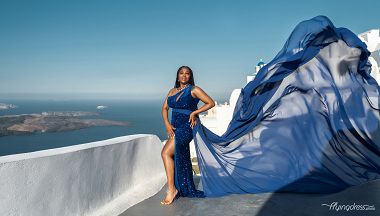 Selecting the perfect dress for your Santorini Flying Dress photoshoot is a must.
Ultimate Santorini Dress Color Guide for Every Skin Tone & Hair Shade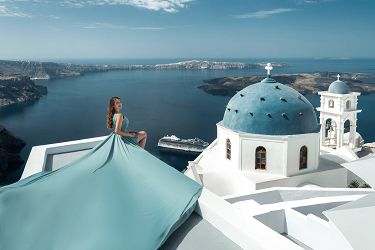 Match your skin and hair colors to the Flying Dress selections with expert precision