Every woman recognizes her own character and appearance in her daughter and desires to surround her princess - regardless her age - with tenderness at all times and constantly show her love. Whether your daughter is your best friend for life or you've been apart for a while, taking a vacation with her and hiring a local photographer to capture your moments together can be a fun way to make new memories. 
So what better place to do so than in Santorini, Greece? Opt for a high-fashion Flying Dress Mother and Daughter Photoshoot in Santorini and prepare to create a valuable keepsake pictorial that you'll treasure for life! 
Here are some tips to help you get the most out of your next

mother and daughter photoshoot.
Crafting a memorable
Santorini Flying Dress Mother and Daughter Photoshoot
in a Nutshell
Plan a trip together to Greece's most stunning island

Hire a

Santorini photographer

who knows their whereabouts

Choose a dreamy

Santorini flying dress

that showcases your character

Add props and accessories to make your photos really pop

Spend quality mother-daughter time and create long-lasting memories
1. Travel to Santorini & pick somewhere new
When it comes to mother and daughter photography sessions, location is everything - plus, it determines the outfits you need to choose to achieve the desired look in your pictorial. Traveling to Santorini together will undoubtedly be a bonding experience that you'll remember for years to come. Santorini is breathtaking from top to bottom, so plan ahead of time what you want to see and do while you're there. 
Santorini has many hidden gems that will steal your heart - an azure crystal clear coastline and endless sunlight. With its reputation for dazzling panoramas, romantic sunsets, and volcanic-sand beaches, it's hardly surprising the island features on so many travelers' photography bucket lists. Your personal photographer will assist you in selecting the most scenic locations, but if you've discovered lesser-known spots, please share your recommendations!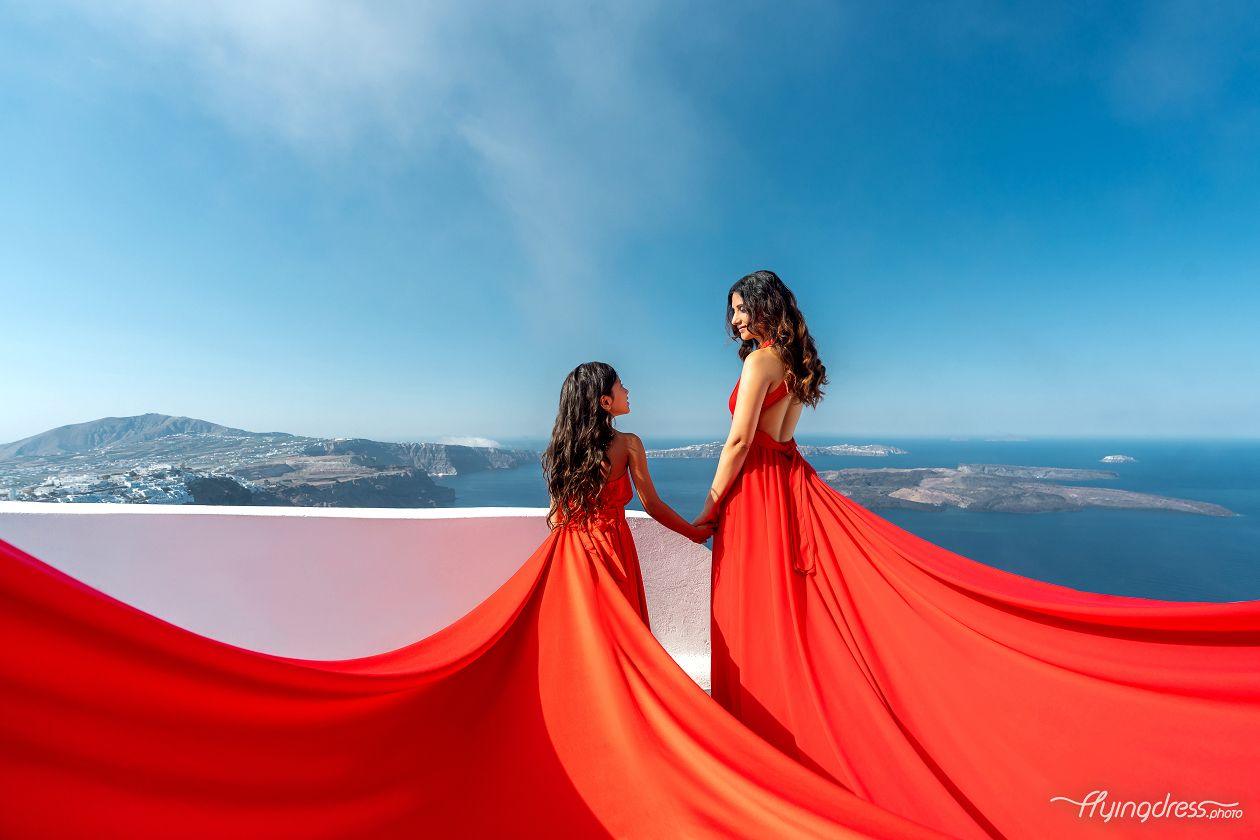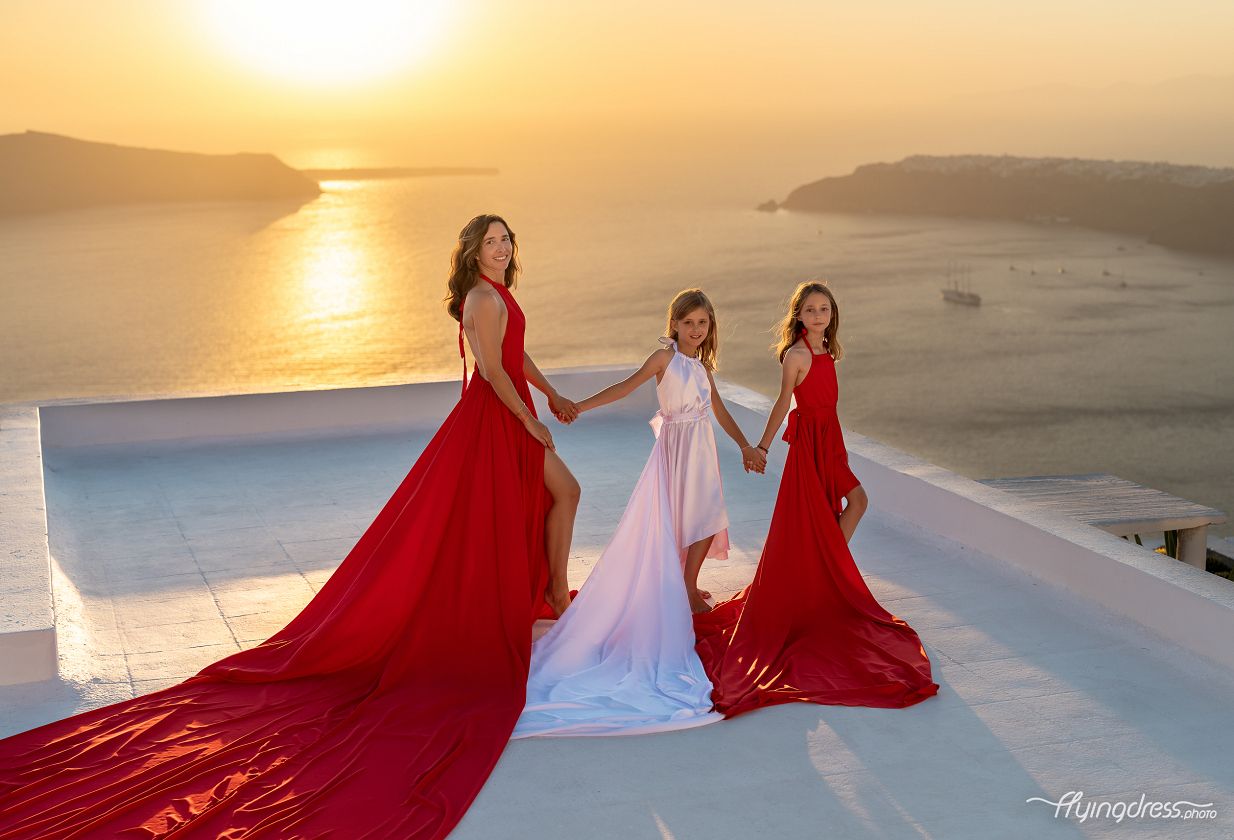 2. Hire a skillful
Santorini photographer
Hiring a Santorini photographer is an excellent way to document the mother-daughter special bond. Mother and daughter photoshoots in Santorini can be a unique and fun way to spend some quality girls' time on the island and capture the spontaneity of your relationship in a stylish and ethereal setting. 
Choose your photographer wisely. By viewing their portfolio on their official website, you are able to plunge into their previous work and get a sense of who they are as an artist. Trust a local photographer to guide you through the islands' superb locations and get the experts' help on how and where to pose like a model. 
Flying Dress insider tip: Don't know how to pose? Check out Santorini Flying Dress Photoshoot Tips To Strike a Pose Like a Model for further inspiration
3. Choose a dreamy
Flying Dress
It's hard to beat the classic mommy and daughter photo theme of matching attire. When in matching dresses, the photo's dynamics always appear natural and achieve to communicate true feelings. The dresses your choose, of course, can help enhance the final images and theme of your Santorini mother and daughter photoshoot, and this is why preparation is key. 
Your outfits should complement one another, and your style should match the location's characteristics. For example, the blues look lovely against Santorini's bleached walls, so add a splash of color with blue. Then orange, pink, or yellow can be added to your Santorini photoshoot at sunrise or sunset. Alternatively, you can both wear white to complement the surrounding water and other elements.
Flying Dress insider tip: Do you need help figuring out which color looks best on you? Read the Ultimate Santorini Dress Color Guide for Every Skin Tone & Hair Shade to find your most flattering look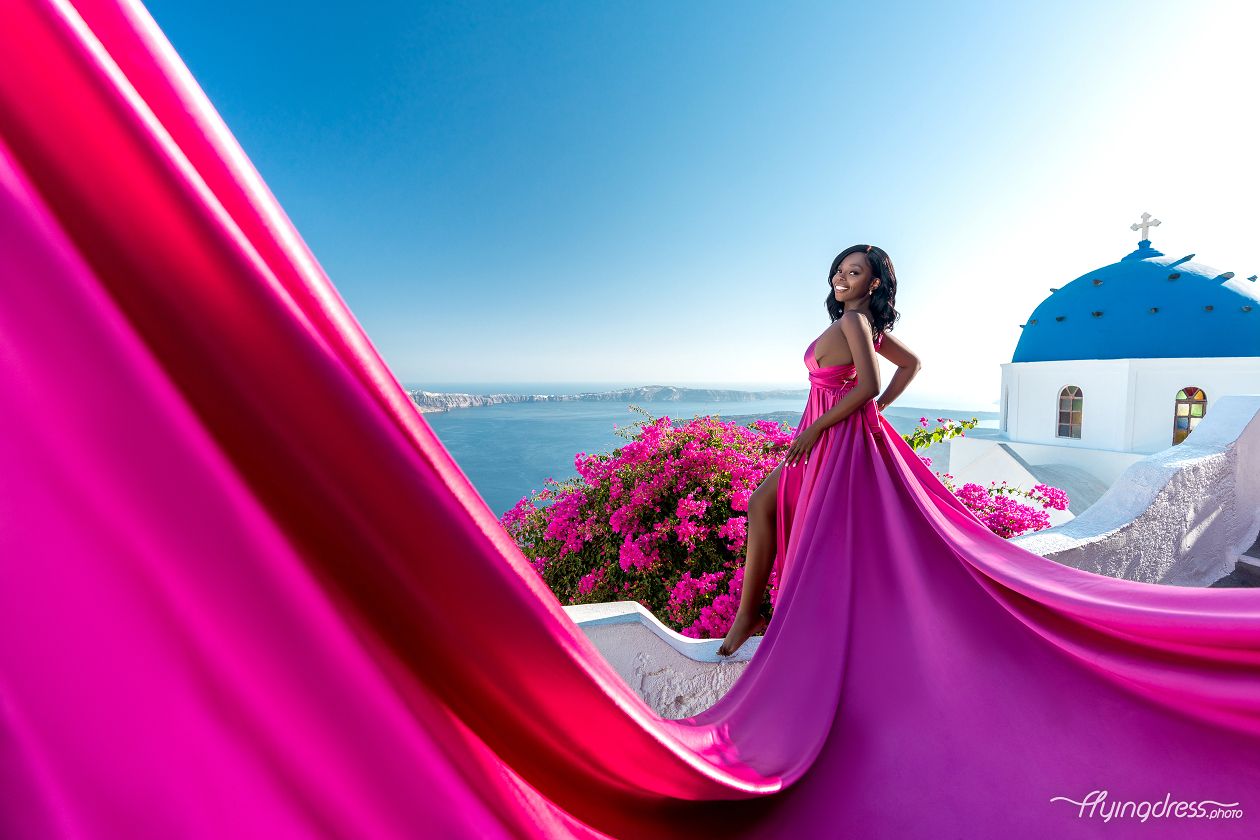 4. Add props, and accessories 
Props are a great way to make your mother-daughter photography session more enjoyable. This can include the addition of balloons, styled seating, signs, and many more to make the shooting more unique and playful. The main role of the props in photography is to add character, drama, and interest to a photo while highlighting the context of the subject's story.
Whether the underlying attire is simple or elegant, using a variety of accessories and props can add a layer to make your photos really pop. Prepping some classic props can create an original effect, so browse on Pinterest, save your favorite ideas or consult your Santorini photographer to ensure that your visions and expectations are met. 
5. Spend some quality time with your daughter
The most crucial thing to remember when having a mother-daughter photo taken is that it is a special moment and a huge privilege. Not everyone is given a chance. So enjoy every moment, have a lot of fun, and let your love and joy shine through. Don't be concerned about how you'll appear in photos or how to pose. Relax and be yourself; staged photos are boring anyway. 
At Flying Dress, we appreciate candid photography because it allows for capturing one-of-the-kind spontaneous moments. You may smile, laugh, and hug as much as you like! Choose casual and relaxed photoshoots, stop focusing on posing and your appearance, and you will be amazed at how beautiful the world is.
Opt for
a Santorini mother and daughter photoshoot
for a breathtaking family pictorial 
The time you spend with your family is valuable and should be remembered. Additionally, the mother and daughter bond is definitely to be celebrated. And what best way to do so other than planning a mother and daughter photoshoot on Greece's most striking island? 
We at Flying Dress would love to help you memorialize your vacation in Santorini with a stunning pictorial. Our Santorini photographers know where to go for elegant images, and we have insider tips, tricks, and ideas that set us apart from the competition.
Don't miss an opportunity to capture priceless moments. Check out the Flying Dress photoshoot packages and find one that is perfect for you during your time in Santorini.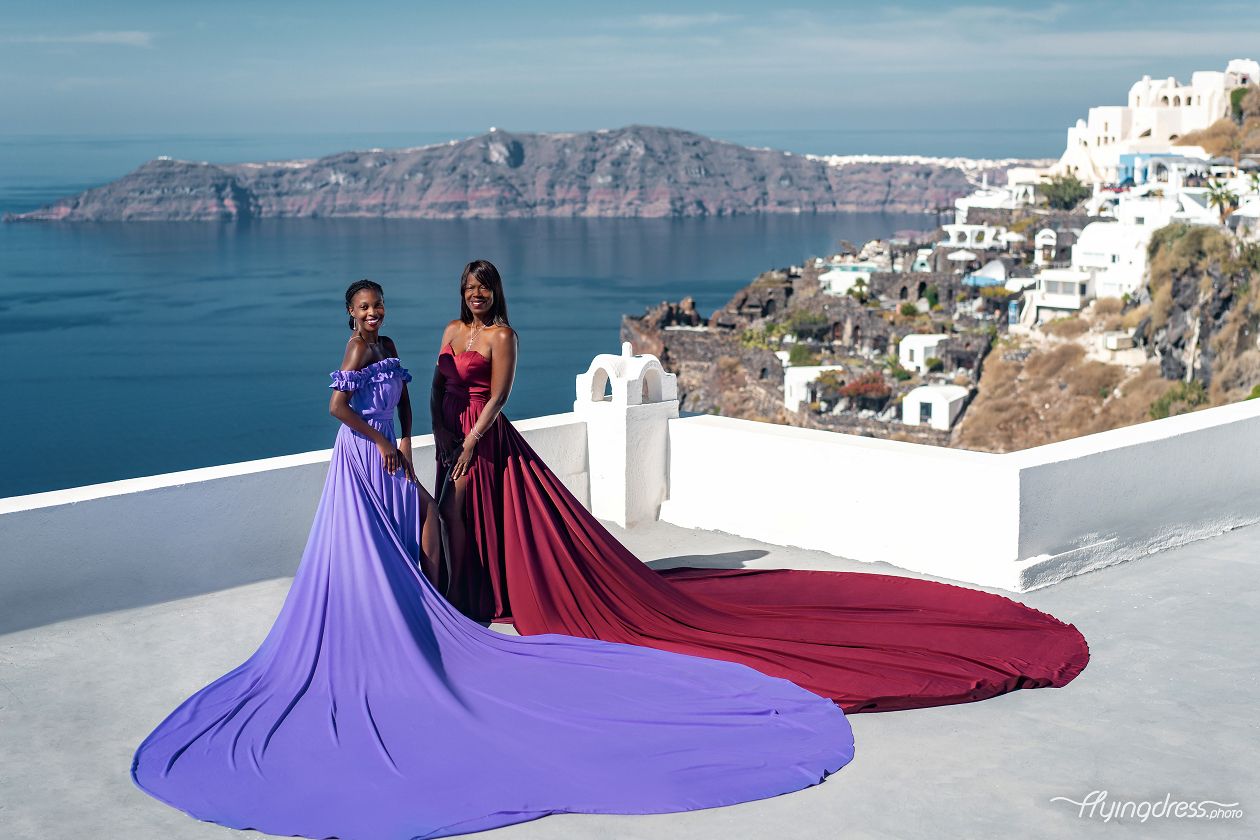 You may like
Santorini Flying Dress Photoshoot Tips To Strike a Pose Like a Model!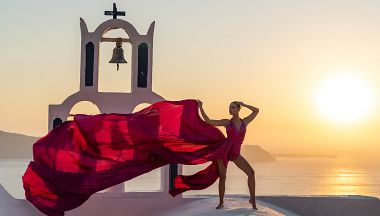 Are you considering a Flying Dress photoshoot in Santorini but worry about how to execute the poses flawlessly?
How To Choose the Perfect Santorini Flying Dress To Look Like Model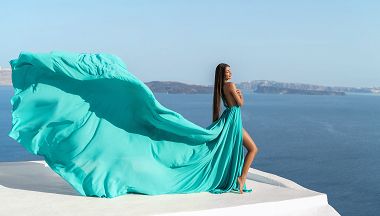 When thinking of a Flying Dress pictorial in Santorini, finding the right dress that makes you feel beautiful is non-negotiable.
Premier Santorini Dress Guide for Every Body Type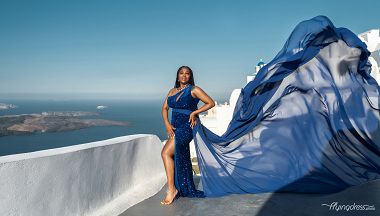 Selecting the perfect dress for your Santorini Flying Dress photoshoot is a must.