Have you always wanted to exchange vows in front of the Grecian Sea? Looking for a destination wedding, pre-wedding, after-wedding, or engagement photography session? Or perhaps you think about a simple yet romantic Santorini photoshoot for couples? 
If yes, then this blog is an absolute must-read for you. Discover the island's hidden treasures and explore picture-perfect spots that aren't as popular with tourists. Immerse yourself in a one-of-a-kind experience on a beautiful island, and use Greece's most famous white cliffside buildings and beautiful blue domes as your imagery's natural backdrop.
After all, you've probably heard that Santorini is a hot spot for breathtaking romantic elopements, so what are you waiting for to plan your couples' photo session on the island? 
4+1 Actionable tips for ​​planning a perfect
couples' photoshoot in Santorini
1. Choose a reliable photographer whose work you love
When hiring a photographer in Santorini, it's all about being comfortable and having fun. Your photographer will be with you all day, and your romantic images will always be linked to how you felt - so pick someone you like. If planning a destination wedding, experience is vital; it's also crucial to find a skillful photographer who knows the whereabouts and understands your visions. 
Select your Santorini photographer based on aesthetics, professionalism, and media type you're interested in. Find a photographer who knows all the wonderful locations and can recommend both popular and lesser-known, out-of-the-beaten track secret spots. Examine their portfolio and research yourself places you'd love to have in your romantic pictorial. 
Pro tip: Pre-book a meeting with your photographer in person or via video call. This will help you determine if you're a good fit.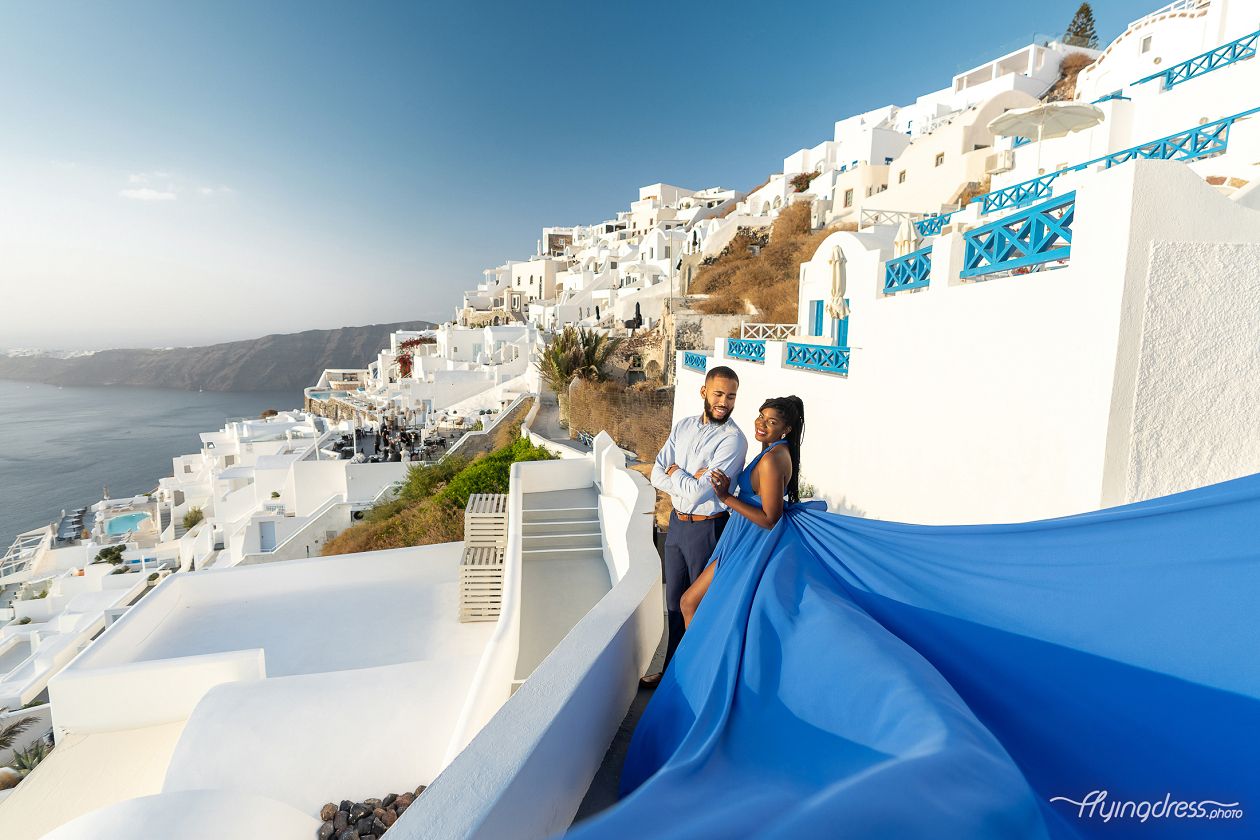 2. Explore the surrounding area & locations
It's lovely to get away from the crowds for a few minutes, and your photographer can join you for some unreal couple shots. For an impressive Santorini photoshoot for couples, consider going to a nearby interesting landmark or a gorgeous beach and allow your photographer to capture classy, yet "uniquely yours" imagery. 
It is possible to find less busy areas in Santorini, particularly if you go away from the popular coastline settlements. Secluded images can be taken on specific beaches in the evening or in more rural regions when the scenery is large and open. The western caldera coast is the ideal site to watch the sunset, while further down the coast, Profitis Ilias, Santorini's highest point, offers a stunning sunset view, and the crowd is not that overwhelming.
3. Consider the light, capture the golden hour
Light sets the mood. If you've hired a terrific wedding photographer, I'm sure they've thought of it and probably even stated this. Consider the timing of sunrise and sunset while organizing your Santorini photoshoot for couples and schedule an outdoor session later in the day. Not only will this provide you with softer lighting for your photos, but it will also keep you from getting sunstroke while walking around under the sun.
Specifically, we always encourage couples to set up ten to fifteen minutes for couple photographs approximately one hour before sunset. We do this not only because it's the best light for photography but also because you'll feel more relaxed while the sun goes down. It's also a perfect opportunity to get away from everyone, find Santorini's best photo spots, and spend some quality time together as the sun sets. Trust me; you won't regret it.
4. Opt for a Santorini Flying Dress Photoshoot 
A Flying Dress romantic Santorini photoshoot for couples is not your average experience; it's an epic decision that mixes glitz, glamour, and a Santorini backdrop that showcases the island's mesmerizing beauty. As with most things in life, embracing and emphasizing your best qualities is critical in making a stunning Flying Dress photograph. 
Your Flying Dress personal photographer in Santorini has a database of looks at your disposal so that you may choose from a variety of dresses. Keep it simple, keep it fresh, and most of all, keep it authentic to you. Avoid complicated or aerial poses unless you are both dancers or athletes with a lot of expertise. Last but not least, for the best outcomes, follow your photographer's instructions and suggestions when posting.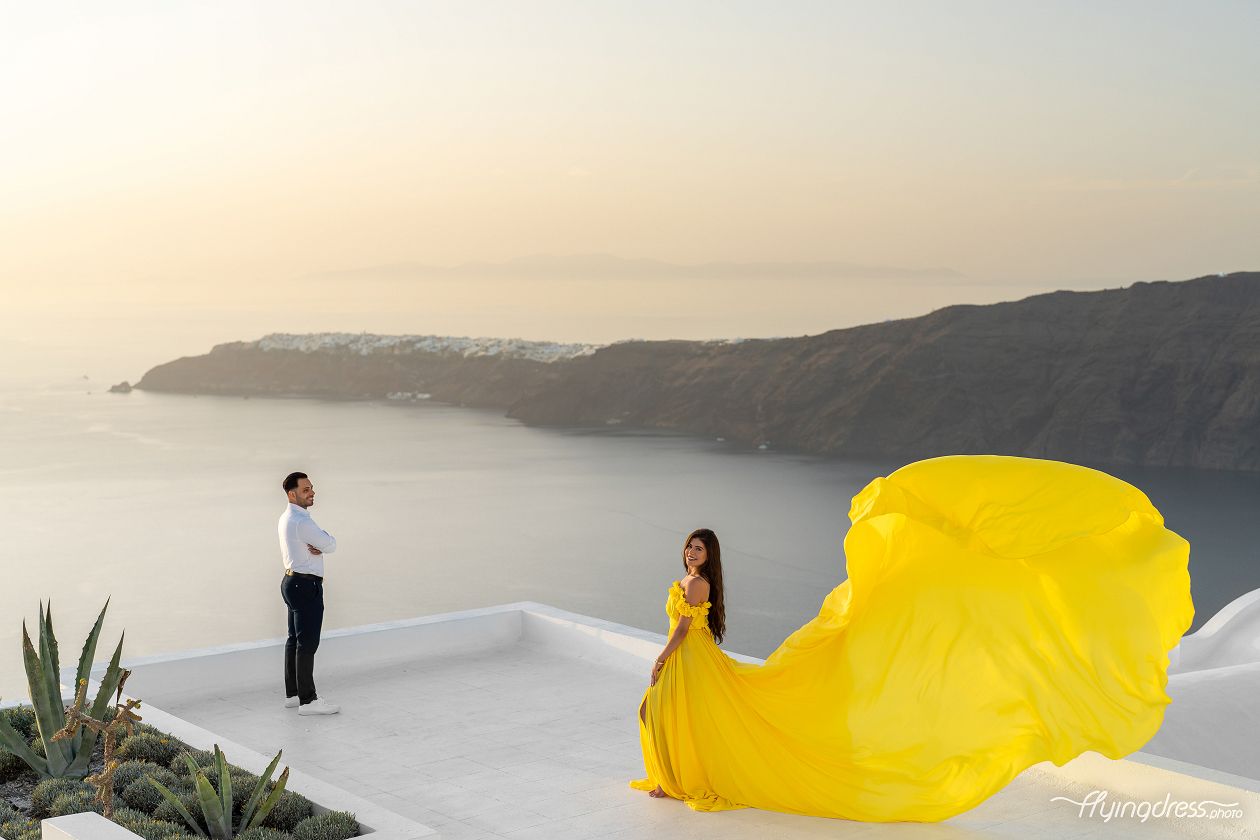 5. Immerse yourself in diverse and alternative photo sessions   
Santorini photoshoots are a romantic affair. The Santorini photoshoot for couples can take place at the Caldera's edge, near a pool, in a restaurant, or on the beach. The volcano as a backdrop and the spectacular sunset promise to create treasured memories for years to come. 
Whether you want a traditional island setting with breathtaking views of the volcanoes and the blue sea, a beach photo session, a romantic walk around a winery, or even a photography session on an 18th-century sailing ship or a sailing catamaran, your Santorini photographer can make the arrangements for the perfect photo-spot for your couples' photoshoot in Santorini. 
Make the Santorini Flying Dress couples' pictorial of your dreams a reality
Following a few simple criteria, you can craft the ultimate Flying Dress romantic photoshoot for couples in Santorini. Keep it basic, authentic, and most importantly, keep it true to yourself. At Flying Dress, we use our years of knowledge and passion for what we do to guarantee you look and feel beautiful while having a stress-free session with us.
Ready to get it going? Check out the Flying Dress photoshoot packages and select the one that's perfect for your visions of stunning Santorini pictorials.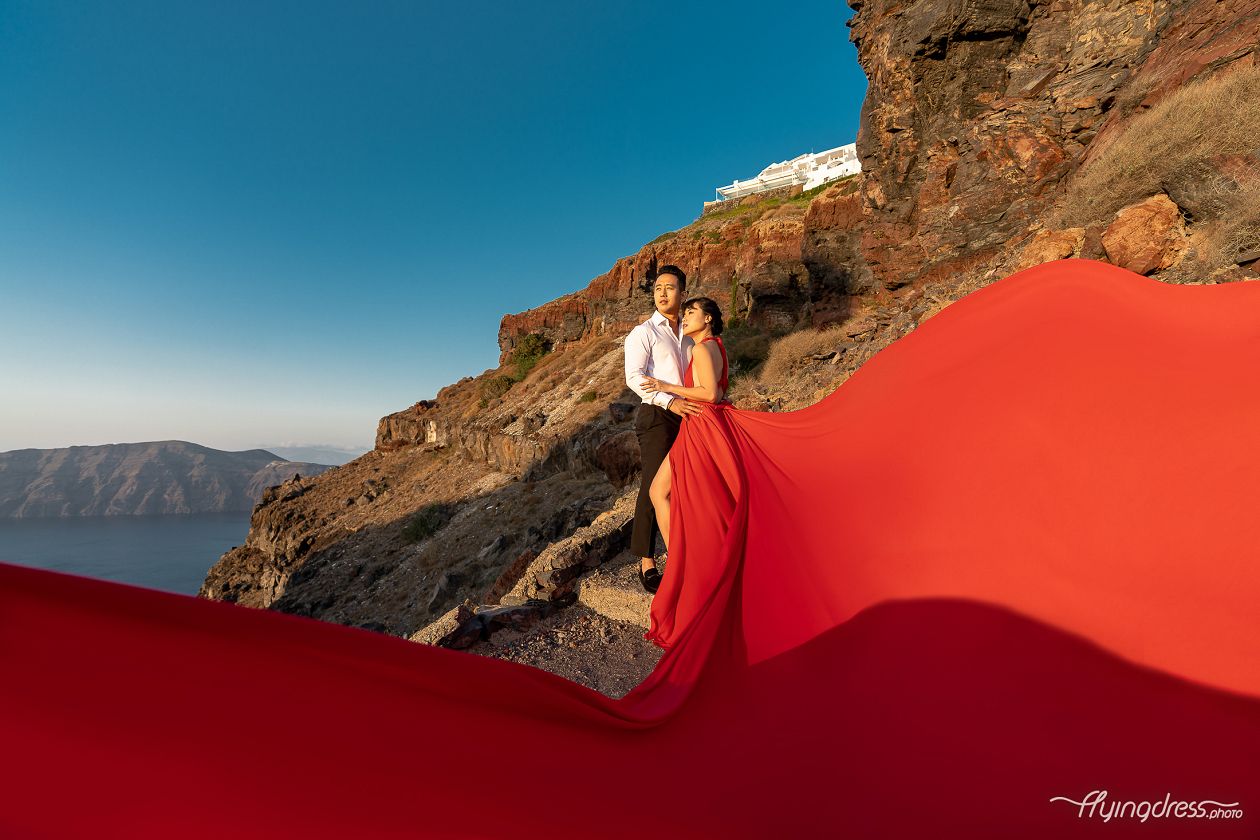 You may like
Santorini Proposal Photoshoot: 9 Best Places to Propose in Santorini
With iconic landmarks, scenic cliffside locations, and visions of the stunning seascape galore, it is no wonder that modern couples flock to Santorini as a proposal destination for otherworldly pictorials.
Santorini Dress Gift: why a Flying Dress photoshoot is the ultimate gift for loved ones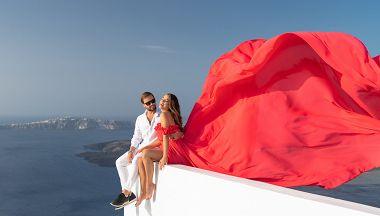 Are you on the search for a unique gift for the special woman in your life during your Santorini holidays?
Ultimate Santorini Dress Color Guide for Every Skin Tone & Hair Shade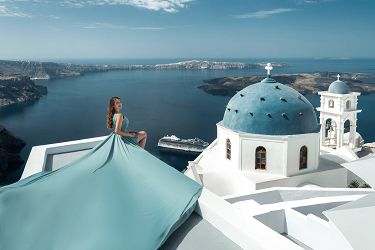 Match your skin and hair colors to the Flying Dress selections with expert precision