With iconic landmarks, scenic cliffside locations, and visions of the stunning seascape galore, it is no wonder that modern couples flock to Santorini as a proposal destination for otherworldly pictorials. Ulta-photogenic with one-of-a-kind backdrops means a Santorini proposal offers unforgettable images of your legendary proposal. 
Proposals in Santorini are highly coveted, and photographers eagerly await bold couples who expertly use the landscape to showcase their love. From dreamy and romantic to tried and true spots, there is no shortage of visually striking locations on the island for the picture-perfect proposal. Read on to learn about the very best proposal spots in Santorini for guaranteed showstopping images. 
Be en vogue at popular
Santorini proposal
spots
All-time favorites for a reason, the most popular proposal spots in Santorini are well-documented while still harboring a uniqueness in every shoot. Consider such locales for subtly-styled photographs, or go bold with a flying dress photoshoot.
 1. Imerovigli village
High-end, cosmopolitan, and indisputably photogenic to boot, Imerovigli might just be the whole package when it comes to picturesque proposal locations. It is known for having the island's best sunset and caldera views, meaning the photos that come from it are bound to be dramatic and distinctly Santorini-esque in nature. 
Much like many other villages throughout the island, sunlight glimmers off the bright white houses and blue-domed churches. Proposals typically take place on flat rooftops or walkways with views cascading out into the Aegean. Romantic touches such as a sprinkling of rose petals play perfectly in this type of setting as well.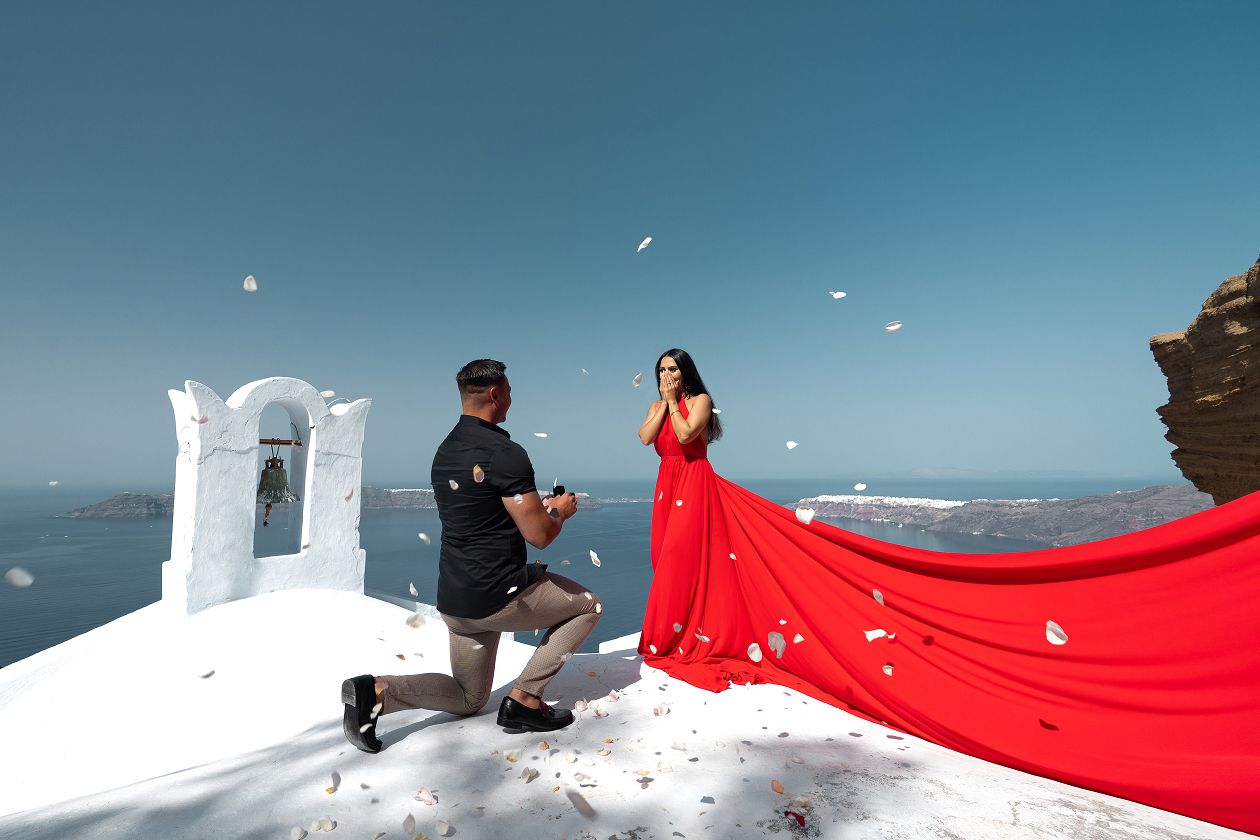 2. Oia cliffside
The crème de la crème of Santorini is Oia, the striking village regarded for its uncanny beauty. Its reputation as a stunning scenery for pictorials is well-deserved thanks to its jagged cliffside dotted with stark white houses and iconic blue-domed churches. As such, Oia serves major flair and inspiration for couples who select it as a proposal photoshoot backdrop. 
From Oia Castle to the famed Agios Spyridonas Church (you know, that church you've seen in pictures for years), the options for picturesque spots in Oia are endless. Additionally, Oia is the most revered location for Santorini flying dress proposal pictorials, with couples perching themselves upon rooftops with plenty of room for dramatic trains to take flight.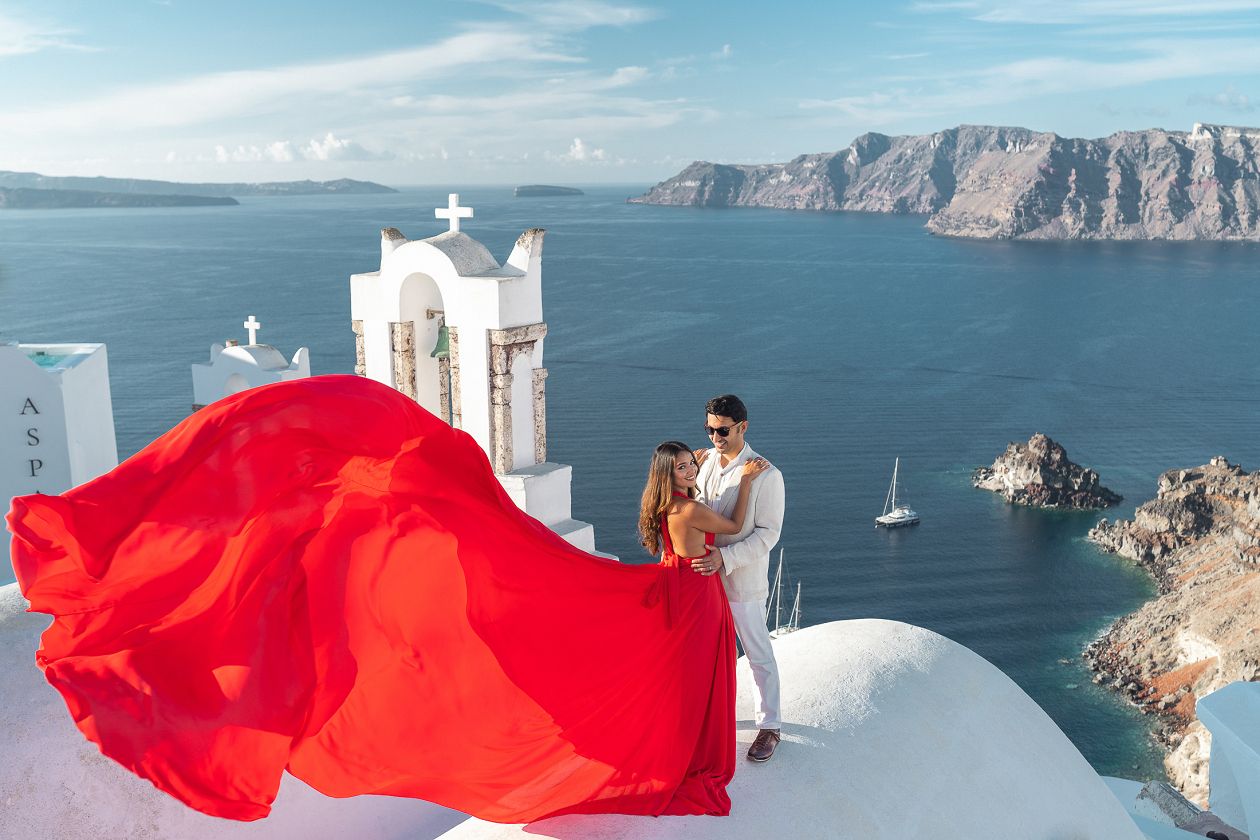 3. Three Bells of Fira
Though you might not know it by name, chances are you're familiar with the image of the Three Bells of Fira. Officially the Catholic Church of Dormition, it is a three-belled white structure alongside one of the island's largest blue-domed churches. The contrast of whites and blues and seemingly endless Aegean in the background makes for a flawless pictorial setting.
With your photographer positioned further uphill, a proposal at the Three Bells of Fira is a superb option for couples who wish to highlight the rolling views out over the horizon. The vastness of the surrounding area and spacious rooftop spaces nearby means it is a popular choice for a proposal photoshoot that, while popular, is not overwhelmingly crowded. 
Feel the love at romantic
Santorini proposal
spots
For romantics at heart, there's nothing quite like a proposal in Santorini. Kick a proposal photoshoot up a notch at some of the island's most visionary spots. Located from corner to corner, discover the most swoon-worthy sites for a story tale proposal. 
 1. Sunset sailing cruise
Regarded as one of the must-do experiences in Santorini, a sunset sailing cruise embodies dreamy Grecian vibes. By renting a private vessel for an evening out at sea, it is the idyllic location for a proposal that is flawless in imagery, especially as the sun is beginning to set into the horizon.
Before the sun sets, sailing boats anchor at the base of the dramatic caldera to get up close and personal with nature as the sky illuminates bright oranges, pinks, and yellows. What is created is the most beautiful chromatic canvas for amazing pictures, and it's available to you all from the privacy of a sundeck upon the ambient sea. 
 2. Caldera-side winery
Wine plays a significant role in the identity of Santorini. As such, there are a surprising number of wineries for a relatively small island that are dedicated to the natural goodness from Santorini's soil. Caldera-side wineries offer unobstructed views of the cliffside and sprawling Aegean Sea, acting as a charming proposal spot in Santorini. 
Brimming with a sensual ambiance and endless bottles of wine at the ready for a toast, wineries on Santorini's caldera are the picture-perfect and romantic location for a proposal. Santo Winery, Venetsanos Winery, and Boutari Winery are some of the most adored along the coast. 
 3. Perissa Beach
Beaches and romance go hand-in-hand, especially when that beach is located on Greece's most mystical island. A proposal at Perissa beach, Santorini's famed cosmopolitan beach with fine black sand, offers an incredible mixture of romantic feels and unique sceneries. 
A proposal at Perissa can be arranged beforehand, with many couples opting for floral archways or a table and chairs for a post-proposal seaside dinner. If a flying dress pictorial is a part of your dream proposal scenario, few places are better than Perissa thanks to plenty of room for poses and a cross breeze to bring the Santorini dress to life. 
Keep it special at intimate
Santorini proposal
spots
For those who seek a quiet proposal away from the crowds, many locations in Santorini offer such a desire. With just you and your photographer in tow, savor the most special moment of your life without the pomp and circumstance of a crowded place. 
 1. The Heart of Santorini rock
Tucked along the coastline of far less-visited Megalochori, the Heart of Santorini is a location that lives up to its moniker. The caldera's naturally carved heart shape looks out into rippling views of the Aegean Sea and is one of the island's best-kept secrets and perfect for an intimate proposal.
The ideal time for a proposal at the Heart of Santorini is undoubtedly at sunset when the incredible colors burst out over the horizon. It is a captivating location for intimate and unique proposal photographs, with no place on the island evoking quite the same charm.
 2. Lighthouse of Akrotiri
On the southwestern corner of the island, the Lighthouse of Akrotiri is a landmark of Santorini that towers over the Aegean. It is one of the oldest lighthouses in Greece, but it exudes romantic allurement that makes you feel miles from the crowds while at the same time acting as a backdrop that is unique for special occasions. 
Besides the lighthouse itself being a beautiful structure, the views are the true selling point. Positioned atop a towering hill that overlooks the Aegean, it is a striking place to propose any time of the day. Surprisingly, despite its noted beauty, it does not draw massive crowds, meaning an intimate proposal at the lighthouse is a near guarantee. 
3. Skaros rock
Feel like the only couple on top of the world at Skaros Rock, a fantastically towering rock formation that was the site of a Medieval fortress from centuries ago. Today, it offers some of the best panoramic views of the whole island though it remains relatively unvisited, making it an intimate place to pop the question.
A proposal atop Skaros rock is an unforgettable experience perfect for adventurous couples and offers up some of the most staggering photographs as memorabilia. Be delighted at the incredibly quaint nearby Agios Georgios, a traditional blue and white church perfect for pictures with a pop of color as well. 
Revel in the
Santorini proposal
photoshoot of your dreams
Memorialize the most romantic moment of your life in a spectacular fashion. Santorini's undeniable beauty, to-die-for landmarks, and captivating ambiance are the perfect combination for an idyllic proposal photoshoot for fashionable couples who are eager to make a bold statement. 
Whether you envision a proposal photoshoot that is modest or you prefer to go fearless with a high-fashion and stylized Santorini flying dress photoshoot, we are eager to assist in your day by taking incredible photos in the island's most enthralling locations. 
Are you ready to arrange the picture-perfect photoshoot in Santorini's premier spots? Check out the Flying Dress packages & select the perfect one for you.
You may like