A Flying Dress photoshoot is no ordinary experience; it's an epic experience that combines glitz, glamour, and a Santorini background that showcases how spectacular the island is. Before embarking on one of the most spectacularly creative photo sessions, it's best to know some details and logistics about the shoot so you feel prepared. Read on to learn the ultimate Santorini dress photoshoot questions to ask to help you achieve the most stunning images possible to cherish for a lifetime. 
1. How should I prepare for my
Santorini Flying Dress photoshoot?
Preparing for a Flying Dress photoshoot is always a good idea, and there are numerous ways you can do so. First, it is a smart move to check out your Santorini photographer's website to see their online gallery and see the types of photos they take, as well as to gain inspiration. Spending time browsing previous Flying Dress photoshoots can kickstart your own feelings on what you wish to achieve in your images.
Another tip for preparing for your photoshoot should happen closer to the photoshoot: practice your poses! Unlike traditional photoshoots, a Flying Dress photoshoot embodies a high-fashion and artistic approach, so trying out poses that are editorial can be very helpful. Practice in front of a mirror to get a sense of attractive poses that you can realistically achieve. 
2. How do I find the
Santorini dress
that's right for me?
One of the most fun Santorini dress photoshoot questions to ponder is which fabulous dress you will wear. Within the Flying Dress catalog is a menagerie of colors, cuts, and styles so that you can find the most flattering dress for your skin tone and body shape. Spend time browsing the catalog, read the descriptions, and inform your photographer which one you wish to rent for the day.
To assist you even further in finding the perfect dress for you, there are some helpful blogs to explore. To find the ideal dress for your body, check out Premier Santorini Dress Guide for Every Body Type. Need help determining the idyllic dress shade for your unique coloring? Read Ultimate Santorini Dress Color Guide for Every Skin Tone & Hair Shade.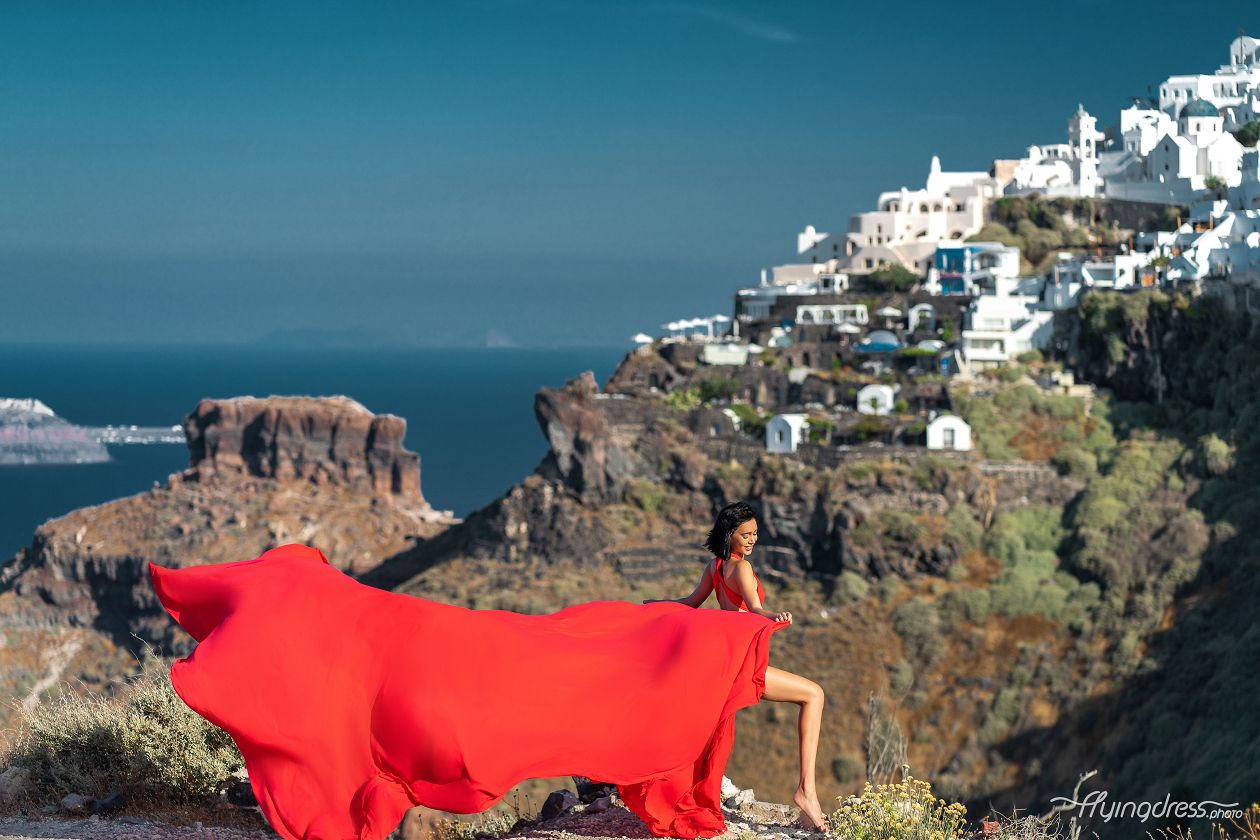 3. Can you help me decide on a theme for my photoshoot?
This may be a detail that you are not aware of, but determining the theme of a Flying Dress photoshoot is one of the most significant ways to have flawless Santorini dress images. Asking your photographer for insight on how to choose a theme that resonates with your personality and style is an important question to ask before your photoshoot.
If you're looking for bold and dramatic images, you will want to choose a dress and background that embody this. Perhaps you're more dreamy, in which case the details need to be softer and more ethereal. You will want your photographs to be a representation of you, so take some time to chat with your photographer for some inspiration. 
4. What are the most picturesque spots for a Flying Dress photoshoot?
A "good problem" that Santorini has is that quite literally every corner of the island is picture-perfect. From the staggering cliffsides and traditional Cycladic architecture on the western coast of the island, to the pebbly beaches in the south, to some lesser-known landmarks sprinkled about, you should put some serious thought into your ideal photoshoot location.
An all-time favorite photoshoot location is the stunning village of Imerovigli, which encompasses the cliffside beauty of Oia without the massive crowds. Other popular and pictursesque villages include Fira and Finika on the northern part of the island, Megalchori further down the coast, and the black pebble beach Columbus. 
5. When is the best time for a Flying Dress photoshoot? 
It is crucial to know that not all times of day are created equal when it comes to a Flying Dress pictorial. In the morning hours the sun is very bright and saturated, which makes it not the best option for everyone. The afternoon's light is not quite as bright and intense as the morning sun, but this time of day can be quite unbearable with the heat, especially for photoshoots in the summer.
It probably comes as no surprise that the sunset is a mega-popular time of day for a Santorini Flying Dress photo session, and one you should strongly consider for yourself. However, depending on where you take the photos, you could potentially be met with large crowd sizes. Therefore, you may be a bit limited in where you shoot, as a place like Oia is not ideal during sunset based on crowds alone.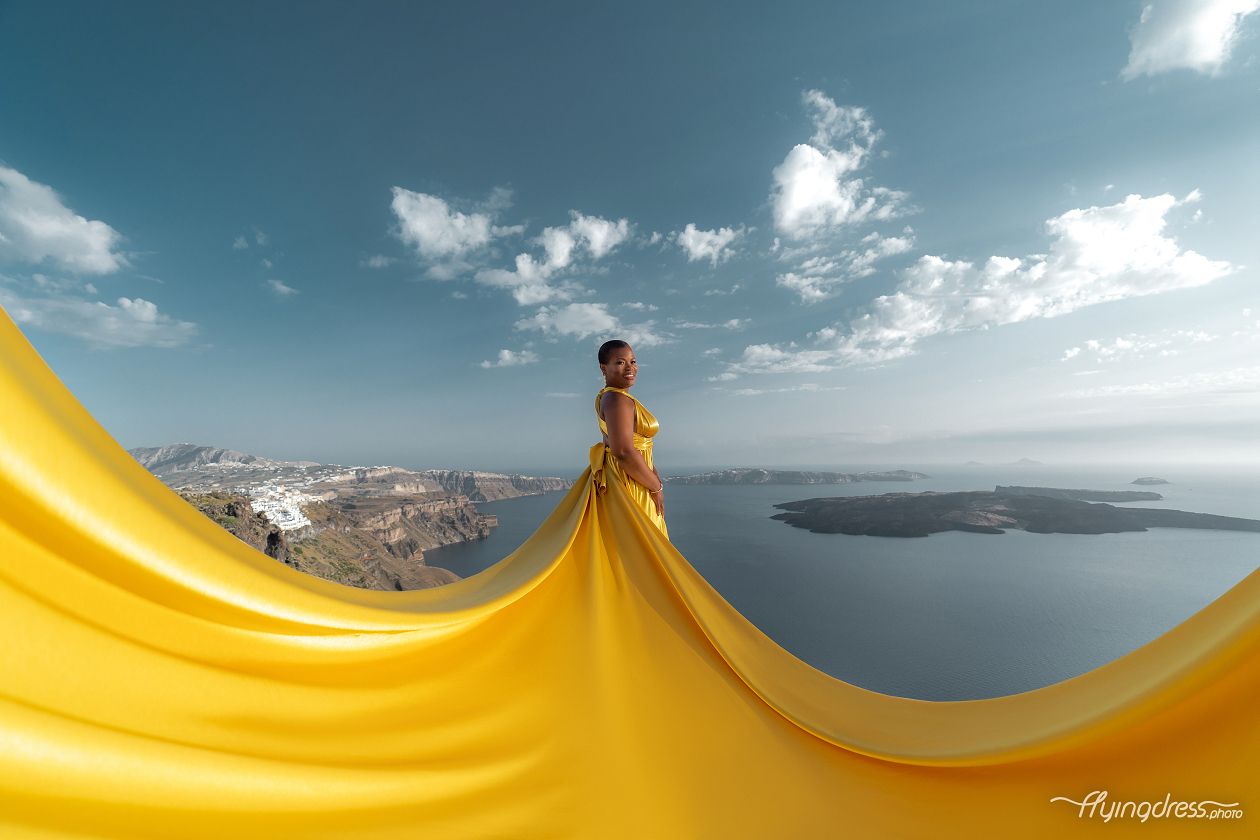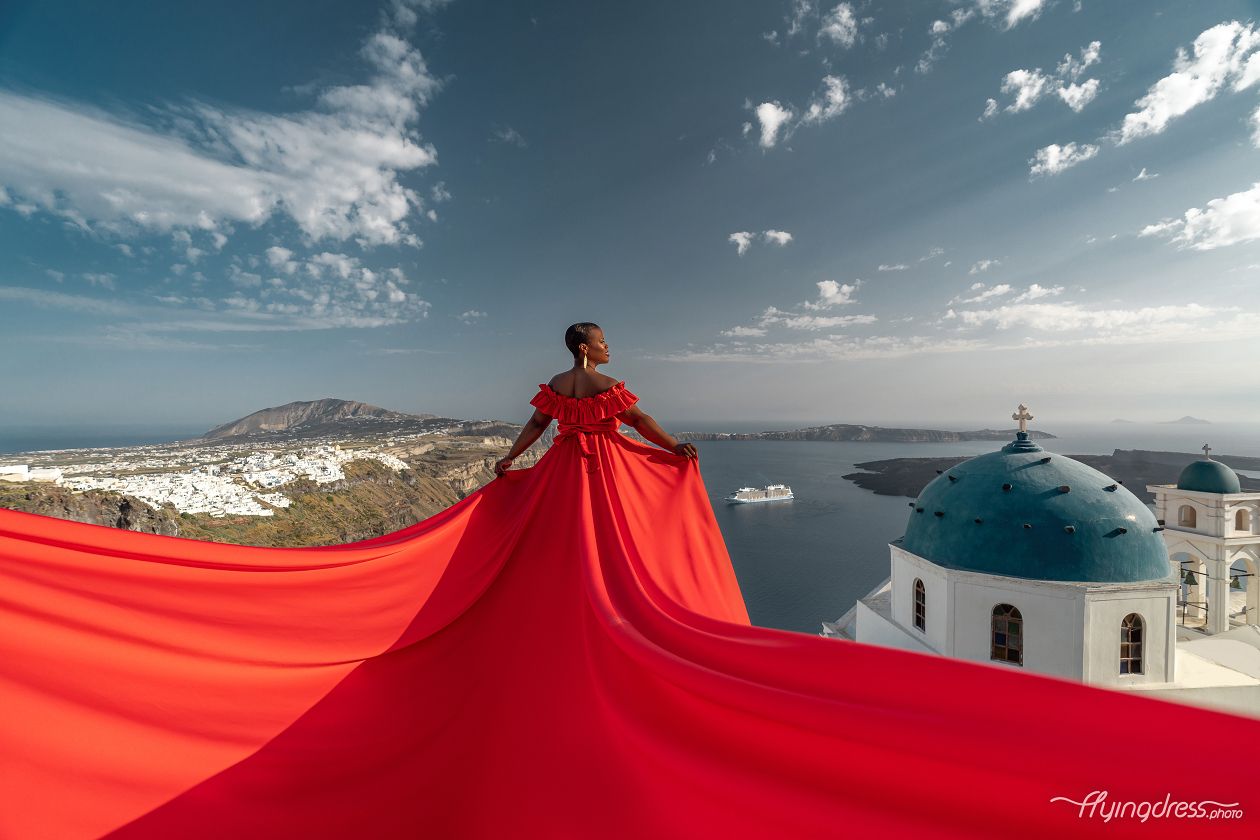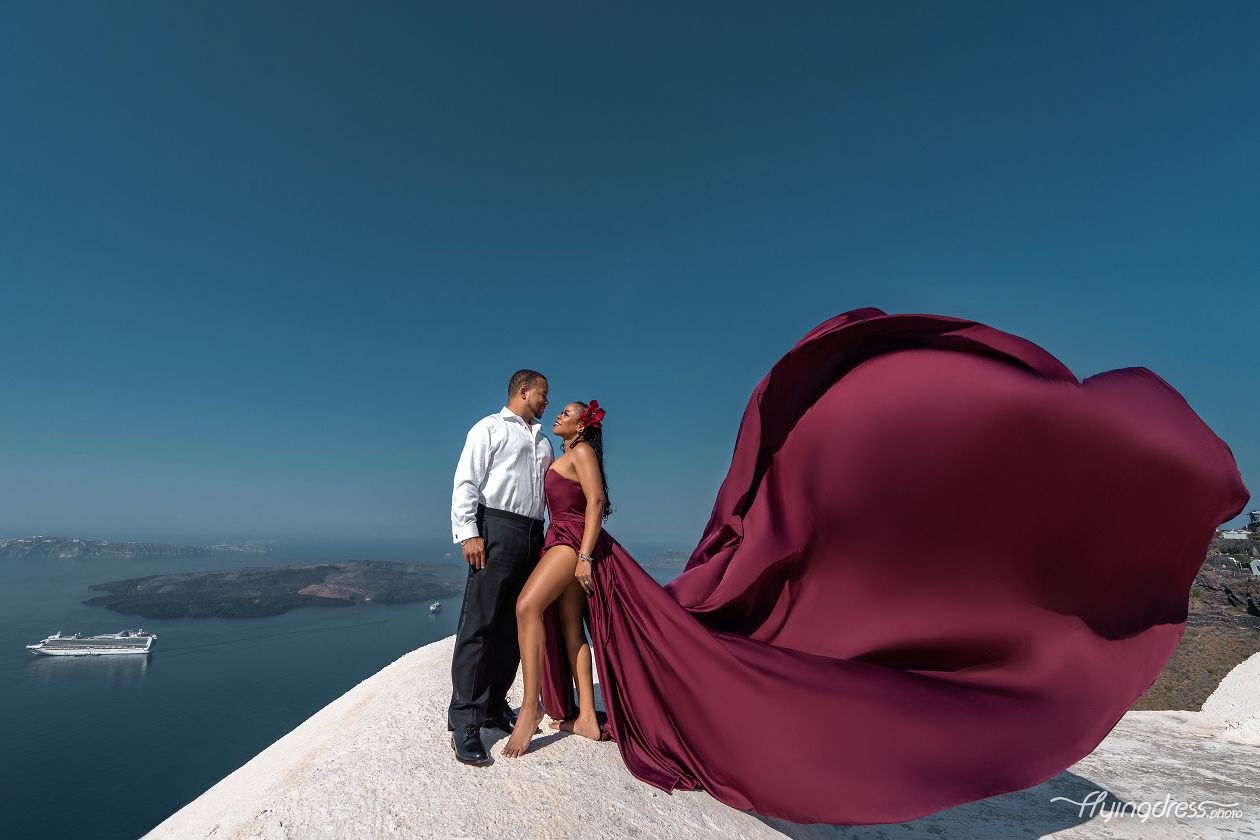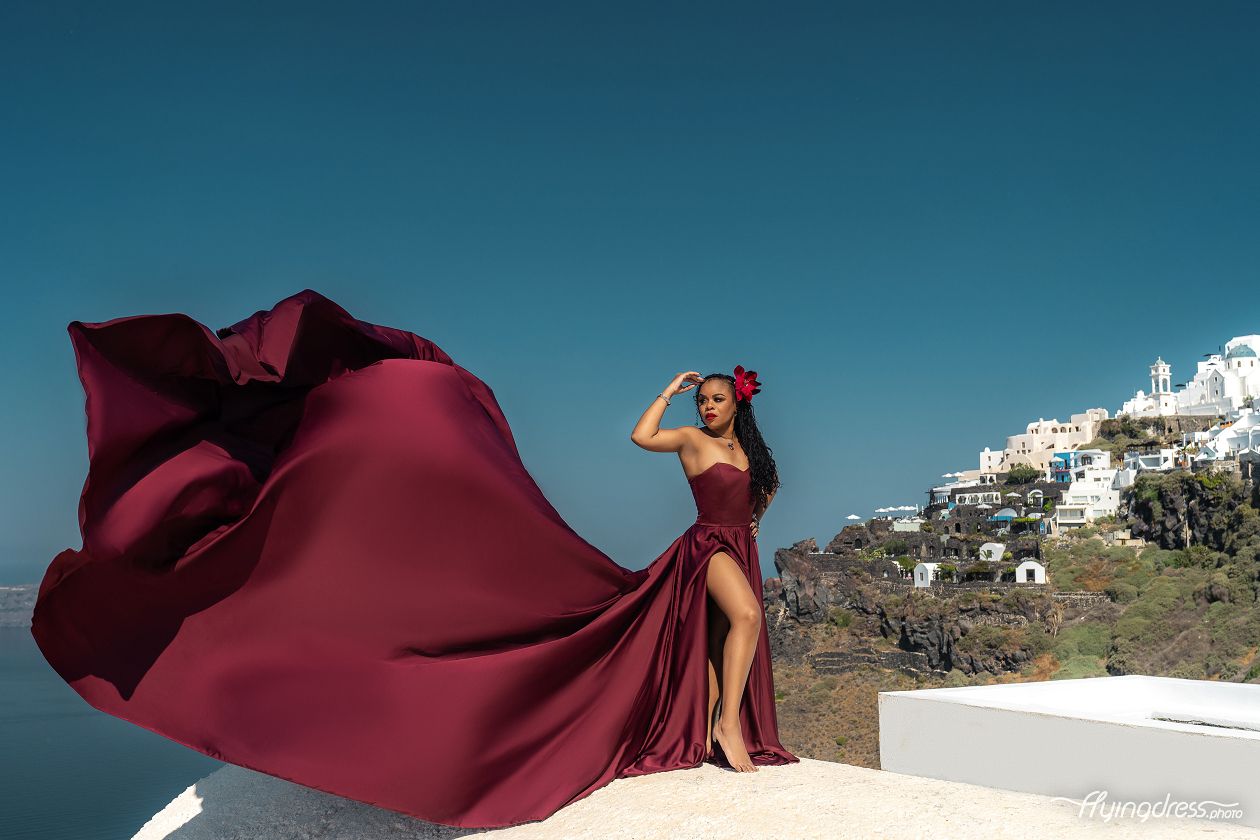 6. What should I bring with me during the photoshoot?
Take it from a Santorini photographer who has been involved in countless Flying Dress photoshoots over the years: bring only what you need! You are not going to want to feel bogged down with unnecessary supplies that are annoying to carry with you. And since the terrain in Santorini is often uneven, you especially do not want your hands full if you are traveling about.
In general, please bring the bare minimum with you for your photoshoot. If you burn easily, you will certainly want to have sunscreen with you especially if you're doing a daytime shoot. It is also recommended to bring a water bottle along and anything else to keep you cool during the summer months. Finally, you will want to bring shoes that are easy to slide on and off. Otherwise, leave it behind!
Feel prepared for an unforgettable
Santorini dress photoshoot 
It's vital to feel prepared for a Flying Dress photoshoot because it directly impacts how confident you feel going into the shoot. Asking the most pertinent Santorini dress photoshoot questions helps to ensure that you have the most crucial information you need for a memorable day in front of the camera. At Flying Dress, we're at your disposal to answer any questions you may have leading up to your one-of-a-kind photoshoot.
Find the package that fulfills everything you are looking for during your photoshoot. Select the Flying Dress packages that's right for you and set off on an epic pictorial.
You may like
How To Choose the Perfect Santorini Flying Dress To Look Like Model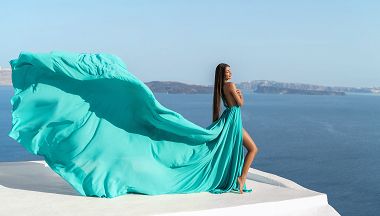 When thinking of a Flying Dress pictorial in Santorini, finding the right dress that makes you feel beautiful is non-negotiable.
Premier Santorini Dress Guide for Every Body Type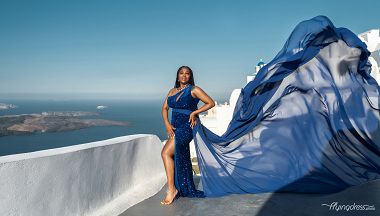 Selecting the perfect dress for your Santorini Flying Dress photoshoot is a must.
Ultimate Santorini Dress Color Guide for Every Skin Tone & Hair Shade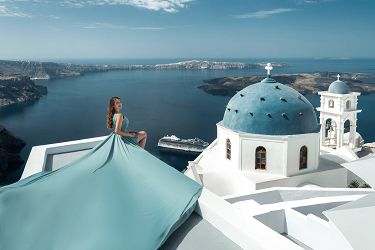 Match your skin and hair colors to the Flying Dress selections with expert precision